Top 10 Best Places to Visit in Province 4 of Nepal
Are you looking for the best places to visit in Province 4 of Nepal?
Choosing the top places to visit makes your travel wonderful and easy. It will also guide you to what to do and what you can see in there where you are going to visit.
There are many best places to visit in Province 4 as well as other provinces of Nepal. So, it is so awful to choose the top places to visit in province 4 from many places. The name of province 4 is 'Gandaki Pradesh'.
Hence, we've reviewed the top 10 best places to visit in Province 4 of Nepal. We are sure it will help you.
1. Dhorpatan Hunting Reserve
Actually, 'Dhor' means marshland and 'Patan' means flat meadows. In this way its name became Dhorpatan. Dhorpatan Hunting Reserve covers an area of 1325 km square of Rukum, Myagdi, and Baglung Districts. It established in 1987. Dhorpatan Hunting Reserve is the only hunting reserve in Nepal.
It is full of Fir, Pine, Rhododendron, Hemlok, Oak, Juniper, spruce, and other trees. There are pasturelands of more than 50 % of the total area of this reserve. It is the main habitat of Blue Sheep, a goat with sheeplike traits, and other animals like Leopard, Himalayan Tahr, Goral, Serow, Himalayan Black Bear, Wild Boar, Langur, Mouse Hare, etc. including Musk deer, Wolf, Red Panda, Pheasant, Danphe, etc.
The higher altitudes of this reserve remain snowcapped all the year. So, you can go there in March or April. Especially tourists come here from all around the world to hunt game animals (the animals which are used for food or meat) and sightseeing of beautiful and magical nature.
There are seven hunting blocks that consist of different names in this reserve. We can hunt in any block but just permitted animals. It is also best for trekking and hiking that we can get the opportunity to meet and know about the culture of the mixture of the hill tribes and the Tibetan Refugees.
We can go there by public bus, airlines, and other vehicle services. It is one of the best places to visit in Province 4 of Nepal.
2. Shanti Stupa, Pokhara
Shanti Stupa is a Buddhist monument that is in pagoda style. It lies on Anadu Hill, Pokhara in the Kaski District. Nipponzan-Myohoji, the Japan Buddha Sangha, and local supporters of Nepal had built it to inspire peace for all races and creeds. Shanti Stupa of Pokhara is the first World Peace Pagoda of Nepal.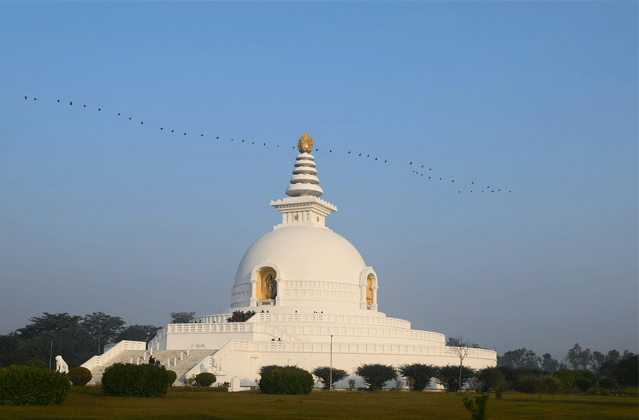 There are four statues of Buddha as souvenirs from four countries i.e. Japan, Sri Lanka, Thailand, and Nepal. Every statue indicates the important events of Buddha that are very fascinating and magnificent. Local people come here to do Buddha rituals here daily and there will be held on some large occasions on important dates.
Since it lies on the top of the hill, we can see a splendid view of sunrise and sunset including the spectacular view of the Himalayan range, Phewa Lake, and Pokhara city from there. We can go there also for hiking and cycling. Tourists go there for its both religious and its natural beauty. It is a quiet peaceful place for meditation and Yoga.
3. Phewa lake
Phewa Lake is a freshwater lake that lies in Pokhara Valley, Kaski District. Since a dam regulates its water, we can call it a semi-natural freshwater lake. It covers an area about of 4.43 km square and its maximum water capacity is approximately 43000000 cubic meters. Phewa Lake is the second largest lake in Nepal.
At the center of this lake, there is a temple named 'Tal Barahi Temple'. It is the most religious monument and most visited place of Province 4 of Nepal. Tal Barahi Temple dedicates to the Lord Vishnu. Especially, devotees come to this temple on Saturdays.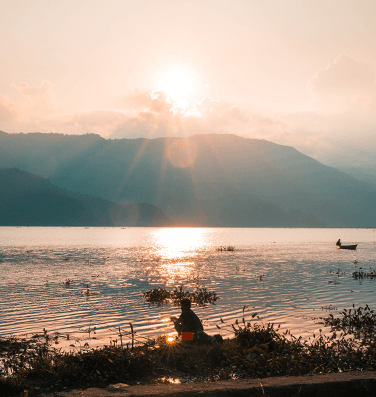 We can see the magical reflection of the Himalayans like Machhapuchhre, Annapurna, Dhaulagiri, etc. in the water of this lake. It is a perfect place for sightseeing of nature and the Himalayan sunrise. There are hotels, lodges, bookshops, and restaurants for tourists on Lakeside or it is known as Baidam.
Tourists come here for boating, hiking, trekking, and other adventurous activities. Paragliding from Sarangkot is also the main attraction of Phewa Lake.
4. Muktinath Temple
Muktinath Temple locates in the lap of Thorong La mountain of Mustang District. It dedicates to Lord Vishnu. Muktinath Temple is a sacred place for both Hindu devotees and Buddhist devotees.
Actually, Muktinath is derived by the connection of two words Mukti and Nath. Mukti means 'Salvation or Nirvana' and Nath means 'God or Master'. In the Hindu religion, people call it Mukti Kshetra which means 'the place of liberation'. This temple is one of the 24 Tantric places. Especially, Nepalese and Indian devotees go there for worship.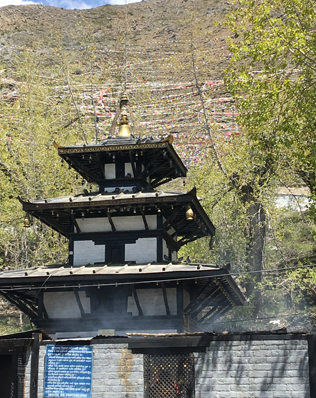 Devotees go there with the belief in getting rid of this life cycle and getting nirvana. There are two ponds in front of the temple and from these two ponds, 108 waterspouts are flowing continuously. These waterspouts are called Muktidhara. People believe that they can get rid of the world or 'Maya' (an illusion) by bathing in these waterspouts.
This temple is open throughout the year. Especially thousands of pilgrims go there during the festivals like Rishitarpani, Ram Navami, and Bijaya Dashami. There is a Shaligram in the prayer room of this temple as the symbol of Lord Vishnu.
Not only it is famous for its religious importance but also it is famous for its natural beauty. We can see the spectacular views of the Himalayans from there. We can get an opportunity to meet and know about the lifestyle and culture of the local people of Mustang. It is also famous for trekking and hiking.
5. Upper Mustang
Upper Mustang is one of the most preserved regions of the world that lies in the northern part of Mustang District, Nepal. It is also known as the Last Forbidden Kingdom. This place is the habitat of the unique people who are still following the traditional Tibetan language and culture. It is one of the most visited tourist destinations in Nepal.
Tourists come here for trekking of about 14 days. We can take a breathtaking experience with the spectacular views of colorful rock mountains, hills, beautiful landscapes, deep ravines, and snowcapped peaks from the trek to Upper Mustang.
People also call this place as 'Grand Canyon' of the Trans Himalaya. The houses of this place are really unique and different from other houses. They look so spiritual and beautiful. Upper Mustang is also famous for the Buddhist religion. We can get a different spirituality there.
Inhabitants of this place do animal husbandry, tourism, and trade in the name of income. They produce clothes with wool using traditional methods and things. So, we can also observe historical and traditional culture there.
6. Bindhyabasini Temple
Bindhyabasini Temple is one of the foremost Shaktipiths of western Nepal and also the oldest temple of Pokhara, Nepal. It lies in the Kaski district of Nepal. This temple dedicates to goddess Bindhyabasini, an incarnation of Goddess Kali, a Hindu deity. We can see other small temples of other gods and goddess-like Saraswati, Shiva, Hanuman, etc.
Tourists from different countries come here to see breathtaking and spectacular views of the Himalayas and also the magnificent view of Pokhara city. It is in Shikhara style which is considered older than Pagoda style. We can see magnificent stone statues of different deities.
Especially, devotees come here to worship in Dashain Festival with sacrificing the animals. This place is also famous for wedding ceremonies and Bratabandha. There are some trees that provide fresh air and a cool environment.
It is a free entry place. We can visit this place wherever we are free. So, if you are in Province 4 of Nepal, please do not forget to visit Bindhyabasini Temple.
7. Tilicho Lake
Tilicho Lake is located in the Manang district, mid-western Nepal. It is one of the best places to visit in Province 4 of Nepal. This lake situates at an altitude of 4919 meters in the Annapurna range of the Himalayans.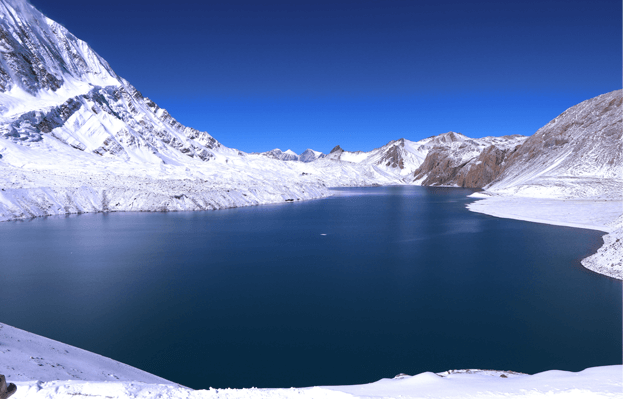 It is one of the most popular trekking and hiking destinations which belongs to the Annapurna Circuit. Many mountains like Khangsar, Muktinath Peak, Nilgiri, Annapurna, etc. surround it from all sides.
We can observe and feel incredible views of breathtaking Himalaya, lush green hills, wide meadows, traditional villages of the Buddhist community, and ancient Buddhist monasteries on the way to Tilicho. So, it is an ideal trek for nature lovers and adventurers who seek peace and a cool environment.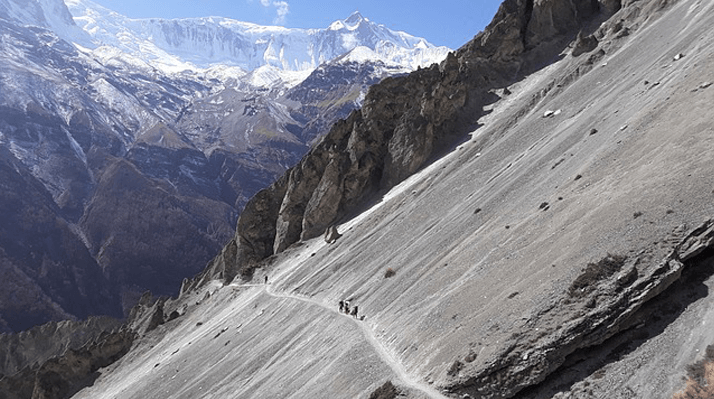 There is a belief that it is the ancient Kak Bhusundi Lake which was mentioned in the epic Ramayan (holy book of Hindus). Every year, tourists from many countries of the world come here to visit.
8. Manakamana Temple

Manakamana Temple situates in the Gorkha district, Province 4 of Nepal. It dedicates to the Hindu goddess Bhagwati, an incarnation of goddess Parvati.

'Manakamana' originates from the combination of the two words i.e. 'mana' and 'kamana' which means heart and wish respectively. So, people believe that their all wishes will be fulfilled by worshipping the goddess Manakamana.

This temple is four stored with tiered roofs in Pagoda style. There are brass plates on the roof. It looks sacred and historical. Mostly, people go there to worship during the Dashain festival by caring for many worship materials like Abir, Kesar badam, Flowers and leaves, etc.

There is the facility of the cable car which is the first cable car of Nepal. People come here also for riding in the cable car to Manakamana. We can see beautiful sceneries around the temple like Manaslu, Annapurna ranges, etc. It is also famous for hiking.
9. Begnas Lake
Begnas Lake situates in the south-east of the Pokhara Valley, Kaski District of Nepal. It is known as the third largest lake in Nepal. The water level in this lake fluctuates seasonally and also it is regulated by Khudi Khola dam.
There is a quiet and cool environment around this lake. Some parts of this lake are used for irrigation and some parts are used for fisheries. It is surrounded by green and large forests and mountains.
We can go there on any vehicles from Pokhara to reach the lake. It takes about 40 minutes by bus from Pokhara. Tourists from different parts of the world come here for boating, fishing, swimming, and observing scenarios.
The entry fee is free in this lake. There are many popular resorts for tourists around this lake. So, it is an easy and suitable place to visit if you are in Province 4 of Nepal.
10. Gorkha Palace
Gorkha Palace locates in the Gorkha district, Province 4 of Nepal. It is a historical palace that was built by Ram Shaha in the 16th century. Gorkha Palace is the birthplace of King Prithivi Narayan Shah who started the unification of Nepal.
It is a beautiful example of traditional Newari architecture. Wooden beams are supporting the floors of this palace. Geographically, it lies on the hilltop and surrounded by a small forest.
Kalika Temple lies inside the palace where we can see wooden carvings of birds, animals, and deities. And also the temple of Goddess Gorakhkali and Gorakhnath Temple lies on one side of this palace. There is a museum where we can observe various royal items like armors, paintings, Divya Upadesh of Prithivi Narayan Shah, etc. More than these, there are also other historical and religious things to observe.
We can go there by bus, car or other vehicles. It really carries the historical glory of Nepal as well as good for sightseeing of mountains and villages. So, it is one of the best places to visit in Province 4 of Nepal.
We hope this article helped you to find the top 10 best places to visit in Province 4 of Nepal.
If you liked this article, then please stay connected to us on Facebook and Twitter.