Top 10 Best Places to Visit in Province 5 of Nepal
Are you looking for the best places to visit in Province 5 of Nepal?
Choosing the top places to visit makes your travel wonderful and easy. It will also guide you to travel and know about the things in the places where you are going to visit.
Province 5 is one of the provinces of Nepal. Its name is 'Lumbini Pradesh'. There are many best places to visit in Province 5 of Nepal. So, it is so awful to choose the top places to visit in Province 5 from many websites because every website claims that the nominated places of their post are the best.
Hence, we've reviewed the top 10 best places to visit in Province 5 of Nepal. We are sure it will help you.
Maya Devi Temple at Lumbini
Bardiya National Park
Ranighat Palace
Swargadwari Temple
Banke National Park
Srinagar (Tansen)
Banke Bageswari Temple
Ridi (Ruru Kshetra)
Siddhababa Temple
Dhurkot
1. Maya Devi Temple at Lumbini
Maya Devi Temple is an ancient Buddhist temple which situates in Lumbini, Rupandehi district of Nepal. It is a historical place where Queen Mahamayadevi gave birth to Gautama Buddha around 563 BC. It is one of the UNESCO World Heritage Sites.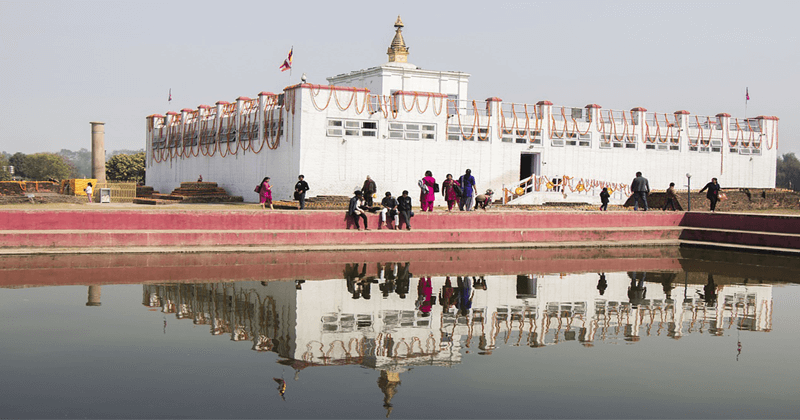 There is a sacred pond near the temple, also called Puskarini where Mahamayadevi had taken a bath before giving birth to Buddha. There are also many ancient structures like Asoka Pillar, Bodhi Tree, World Peace Pagoda, etc. along with many monasteries around the temple. If you go there, then you can also visit these places easily.
It is one of the most sacred places for people who believe in Buddha and Buddhism. We can observe ruins of stupas and peaceful monks meditating under a big Bodhi (Pipal) tree decorated with colorful prayer flags and papers.
It feels spiritual and peaceful in the Maya Devi temple. Especially, Buddhist pilgrims, peace lovers, and soul seekers from around the world visit Lumbini every year.
So, if you are planning to visit Province 5 of Nepal, then don't forget to visit Maya Devi Temple
2. Bardiya National Park
It is the largest and most undisturbed national park of Nepal covering 968 km sq. It was established in 1988 as Royal Bardiya National Park.
The primary purpose of this park is to preserve the endangered species of flora and fauna. Sal tree with a mixture of grassland, savannah, and riverine forest covers about 70% of its area. According to the record, there are more than 839 species of flora including many vascular plants, dicots, ferns, etc.
You can see endangered animals like the Royal Bengal Tiger, Wild elephant, one-horned rhinoceros, swamp deer, Gangetic dolphin, gharial, Bengal florican, sarun crane, etc. Bardiya National Park offers a truly immersive experience where you can explore diverse ecosystems, and discover 513 species of birds, 125 species of fishes, 23 reptiles, amphibian species, and others.
You can visit the society of the indigenous group named 'Tharu' who have their language, culture, and traditions nearly from the park. You can discover their unique way of life, participate in traditional activities, and savor the flavors of authentic local cuisine. Get ready for an unforgettable adventure as you embark on thrilling jungle safaris, encounter majestic Bengal tigers, and witness the grace of one-horned rhinoceros and Asian elephants.
luckily if you are in Province 5, then don't hesitate to let the magic of Bardiya National Park captivate your senses and create memories that will last for a lifetime.
3. Ranighat Palace
General Khadga Samser Jung Bahadur Rana built it in 1893 as a tribute to his beloved wife Tej Kumari Devi. It is located on the bank of the Kali Gandaki River in the Palpa district of Nepal. People know this place as the place of love or the Tajmahal of Nepal. The palace holds a romantic charm and serves as a reminder of the royal legacy and cultural heritage of Nepal.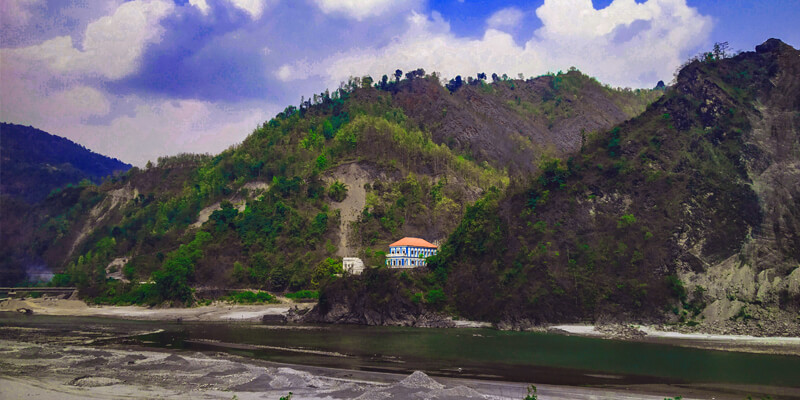 We can observe the history of Nepal in this historical palace. Although it is old it looks very beautiful with its soothing light blue color the building combines Mughal and Nepali styles with intricate carvings, beautiful windows, and the green forest surroundings.
People go there to research history and visit its balanced scenery with nature. People come to visit the Kaligandaki River which flows in opposite directions near the palace. Visitors can enjoy the serene beauty of the river, take in the panoramic views, and capture memorable photographs.
If you are planning to visit Province 5, then add Ranighat Palace to the list of your going-to-visit places.
4. Swardwari Temple
It is located in the enchanting hills of Pyuthan district in Nepal. Swargadwari Temple stands as a revered pilgrimage site and a sanctuary of spiritual tranquility. Swargadwari means "gateway to heaven" which holds immense significance for both religious devotees and curious travelers alike.
This temple dedicates to Lord Vishnu, one of the most revered deities in Hindu mythology. The temple complex gives an aura of devotion, with its beautiful architecture and intricate carvings depicting mythological scenes. Mostly Nepalese and Indian devotees visit the temple to seek blessings, offer prayers and immerse themselves in the spiritual energy.
Swargadwari Temple offers stunning views of the surrounding landscapes. You can enjoy breathtaking views of the rolling hills, lush green valleys, and distant mountain ranges.
This temple is also popular for trekking. The trek offers a chance to enjoy the natural surroundings, encounter diverse flora and fauna, and experience the thrill of an adventurous journey.
Swargadwari Temple invites you to embark on a soul-stirring journey, where devotion, tranquility, and natural beauty converge. So don't forget to visit Swargadwari Temple and fulfill your wish.
5. Banke National Park
Banke National Park is located in Province 5 of Nepal. It had been established in 2010 as Nepal's tenth national park. Before its declaration as National Park, it was recognized as a" gift to the earth" due to the wide range of bio-diversity. It covers an area of 550 sq km.
The park is home to diverse ecosystems, including lush grasslands, dense forests, and meandering rivers, creating an ideal habitat for a wide array of flora and fauna that is 124 species of plants, 34 species of mammals, more than 300 varieties of birds, 58 species of fish, 24 reptiles and 7 amphibians.
People come here for its wildlife safari experiences. You can embark on thrilling jeep safaris or guided walks to see amazing animals such as Bengal tigers, rare swamp deer, wild elephants, and a variety of bird species. These sightings offer an incredible chance to observe these magnificent creatures in their natural habitat and learn about their behaviors and conservation needs.
The dense forests, grasslands, and meandering rivers offer a sense of adventure and exploration, inviting you to embark on treks and immerse yourselves in the beauty of nature. It is a paradise for bird lovers. You can spot a wide variety of bird species, including migratory birds, waterfowl, and birds of prey. You can enjoy leisurely walks, and picnics, and take breathtaking photographs.
Near the park, you can visit traditional Tharu villages and experience the local culture and way of life. It's an opportunity to learn about the rich cultural heritage of the region.
Whether you're a wildlife enthusiast, a nature lover, or someone looking for a peaceful escape, Banke National Park offers an unforgettable journey filled with adventure, tranquility, and a chance to appreciate the beauty of the natural world. So don't forget to visit there.
6. Srinagar (Tansen)
Srinagar in Tansen, Palpa district of Nepal, is a captivating town known for its historical sites, stunning views, and warm hospitality. Since Srinagar situates on a hilltop, it provides breathtaking panoramic views of the surrounding landscapes and mountains.
One of the main attractions of Srinagar is its rich historical significance. The town is famous for its ancient architecture, traditional Newari houses, and well-preserved historical sites. The Durbar Square of Srinagar showcases beautiful pagoda-style temples, intricately carved wooden windows, and stone sculptures that reflect the town's cultural heritage.
Lush green hills and terraced fields surround Srinagar making it an ideal destination for nature lovers also. You can enjoy leisurely walks, hikes, and treks in the tranquil surroundings, immersing yourselves in the beauty of the natural landscapes.
The hospitality and warmth of the local community are also noteworthy in Srinagar. The town offers a beautiful experience of Nepali culture and traditions, allowing you to interact with the friendly local people and understand Newari cuisine.
Srinagar, with its blend of history, nature, and cultural experiences, is a hidden gem in Nepal. so, if you are in Province 5 of Nepal, then visit this wonderful place.
7. Banke Bageswari Temple
It is located in Banke District, Nepal. It is a revered religious site of the goddess Bageswari which holds immense significance for Hindu devotees who come here to seek blessings and pray to the goddess.
The architecture of Banke Bageswari Temple is impressive, featuring intricate carvings and traditional Nepali craftsmanship. The temple's image is in Nepalese one-rupee coins and postal stamps. The serene atmosphere within the temple premises creates a peaceful and sacred environment for spiritual seekers.
The temple attracts a large number of devotees, particularly during special festivals like Dashain, Shivaratri, Teej, and Magh Shukla Purnima when the people worship the goddess with animal sacrifices. The religious rituals during these occasions create a vibrant and energetic atmosphere.
Visiting Banke Bageswari Temple provides not only a chance to engage in religious activities but also an opportunity to appreciate the cultural traditions of Nepal. The temple complex is often crowded with devotees, vendors selling religious items, and nearby markets offering local handicrafts and snacks.
If you have an interest in spirituality and cultural exploration, then Banke Bageswari Temple is one of those which offers Nepal's religious traditions and a chance to witness the devotion and faith of its people.
8. Ridi (Ruru Kshetra)
Ridi, also known as Ruru Kshetra, is one of the Char Dhams (four Hindu religious sites) situated in Nepal. It lies on the bank of Kaligandaki River and Ruru Khola. This place is also the tri-junction of three districts that are Gulmi, Palpa, and Syanja.
The iconic Rishikesh Temple is the major attraction in Ridi. It is a beautifully crafted temple dedicated to Lord Rishikesh (means controller of all senses), known as an incarnation of Lord Vishnu. The symbol of Lord Vishnu, 'Shaligram' had been found on the bank of Kaligandaki River. The intricate wood carvings and sculptures also make it a visually stunning religious site.
There is the Kaligandaki River which holds immense religious significance. It is considered holy by Hindu devotees and they visit Ridi to take ritual baths and perform religious ceremonies along the riverbanks. They believe that they will be blessed by taking ritual baths. One of the most significant festivals is the Maghe Sankranti Mela, celebrated in January, where people gather to take holy dips in the Ridi River and participate in various cultural and religious activities.
Ridi is home to several other temples such as Narayan Temple, Triveni Temple, and Chaturbhuj Narayan Temple. Each temple has its own unique architectural style and historical importance. Ridi is also blessed with natural beauty, surrounded by lush green hills and panoramic views of the Annapurna and Dhaulagiri mountain ranges. The scenic landscapes provide opportunities for nature walks, hiking, and capturing mesmerizing photographs.
Recently there has been built a tri-junction bridge on the Kaligandaki River joined Palpa, Syanja, and Gulmi districts. In the joint point of three bridges, there is a big view tower from where you can see the gigantic hills of three districts and Ruru Kshetra.
Ruru Kshetra of Province 5 of Nepal holds a beautiful story of a mediator. So, if you are planning to visit the districts of Province 5 of Nepal, then you must go to Ridi.
9. Siddhababa Temple
It is located near Butwal city in Palpadistrict of Nepal. This temple is dedicated to Lord Shiva and other deities such as Ganesh, Mansa Devi, Nag, etc. It is on the bank of the Tinau River and also of a small river named Chidiya Khola. Devotees use the water of Chidiya Khola as holy water.
Siddhababa Temple showcases a unique architectural style that reflects the region's cultural heritage. The main shrine is adorned with vibrant decorations, colorful flags, and intricate carvings, creating a visually captivating sight for visitors.
The temple is situated in the lap of big hills around it. You can enjoy scenic walks, explore the surrounding hills, and witness the stunning landscapes while visiting the temple.
This place becomes a vibrant hub during Saturday, Monday, and other religious festivals and celebrations like Maha Shivaratri. There is a popular culture to fly pigeons. It is a famous place for pilgrims who come to pay their respects, seek blessings, and deepen their spiritual connection.
So, if you are visiting Province 5 of Nepal, then don't miss Siddhababa Temple.
10. Dhurkot
Dhurkot is a rural municipality of the Gulmi district of Nepal. The village is enveloped by lush greenery, and the picturesque vistas of the Himalayan mountain ranges, including Annapurna and Dhaulagiri, add to its charm. Exploring the serene countryside and indulging in nature walks are popular activities for visitors.
Dhurkot Durbar, an ancient palace, is a prominent attraction in the village. This historic palace reflects the region's architectural heritage and offers insights into the local history and culture. The village has various beautifully adorned temples dedicated to Hindu deities, where devotees gather to offer prayers and seek blessings. These sacred sites provide you with a glimpse into the spiritual practices and beliefs of the region.
One of the unique attractions of Dhurkot is experiencing the warm hospitality and rural lifestyle of the villagers. Engaging with the locals, learning about their traditions and rituals, and witnessing their daily activities can be a memorable part of the visit.
Although there may not have an extensive tourist infrastructure or numerous attractions, its natural beauty, cultural heritage, and warm hospitality offer a unique and enriching experience for travelers seeking a glimpse of rural Nepal. So, it is one of the best places in Province 5 of Nepal.
We hope this article helped you to find the top 10 most visited national parks of Nepal.
If you liked this article, then please stay connected to us on Facebook, Instagram, and Twitter.