Top 10 Best Places to Visit in Kirtipur, Nepal
Want to know the best places to visit in Kirtipur?
Among the five municipalities in Kathmandu valley, Kirtipur is one of them. It is a popular place for the Newar community where Newar culture, language, religion, and festivals are still alive.
It consists of one of the top Trivuwan universities in Nepal. Kirtipur is surrounded by the various temples, gumba, and beautiful hills, So, it is a beautiful place.
In this article, we will share with you the top 10 best places to visit in Kirtipur.
1. Bagh Bhairab Temple
Among the top 10 best places to visit in Kirtipur, Bagh Bhairab Temple is one of the famous religious places. The temple is dedicated to Lord Bhairab and mainly worshiped by the Newars.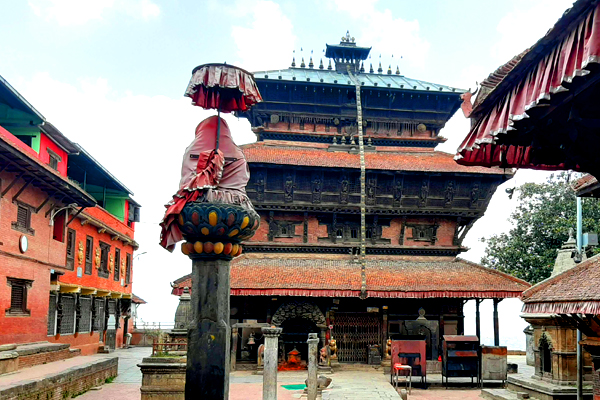 It is believed that the temple consists of about sixty-four different forms of Bhairab. There are eighteen pinnacles including one on the first roof, six on the second, and eleven on the top.
From the temple, we can observe the beautiful view of the entire valley. The temple gets more visitors and worshipers in the Early morning because of a peaceful and delightful environment.
The local peoples come here to enjoy the chirping of the birds and fresh air mainly in the early evening.
2. Nagar Mandap Shri Kirti Bihar
Nagar Mandap Shri Kirti Bihar is one of the famous historical places located at the NayaBazzar Kirtipur. This is a Theravada Buddhist monastery construct on traditional Thai architecture style.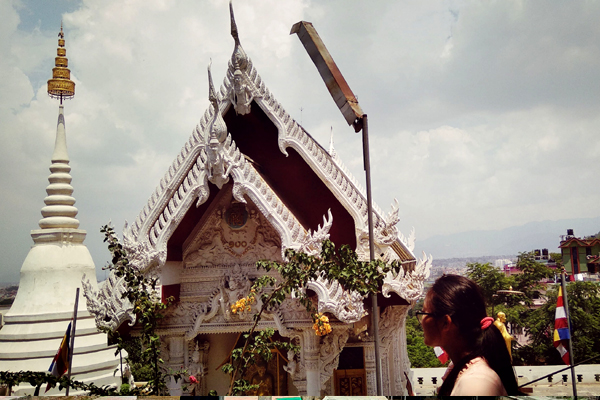 All interested visitors are welcome here. A small garden and a pond make the Bihar more beautiful.
Visitors can also enter inside the Thai Hall where a different statue of Lord Buddha has kept.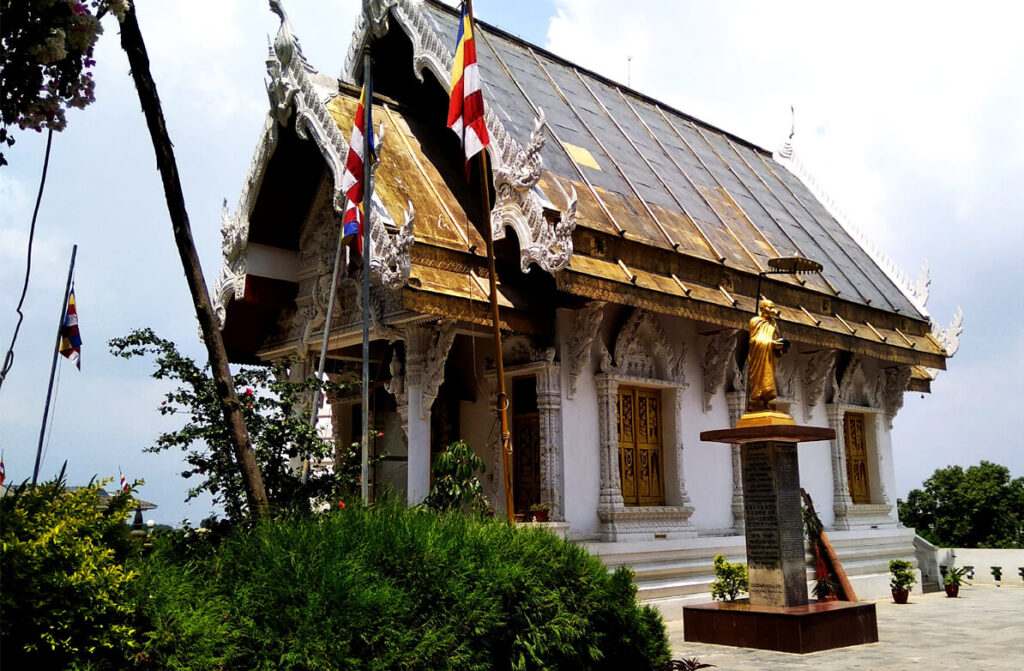 If you are looking for a peaceful place, then Nagar Mandap Shri Kirti Bihar is the best choice.
The temple offers an aesthetic stone gate at the entrance and the wooden doors, pillars crafted with creative figures of various gods and goddesses.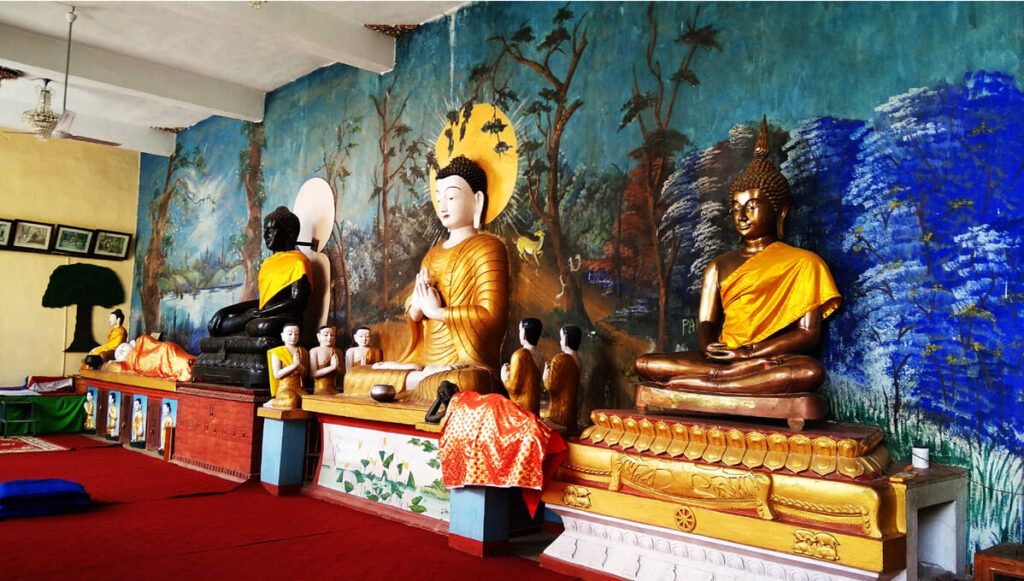 3. Uma Maheshwar Temple
Uma Maheshwar is a pagoda-style temple located at the top of a hill in Kirtipur. It is an important heritage site in Kirtipur.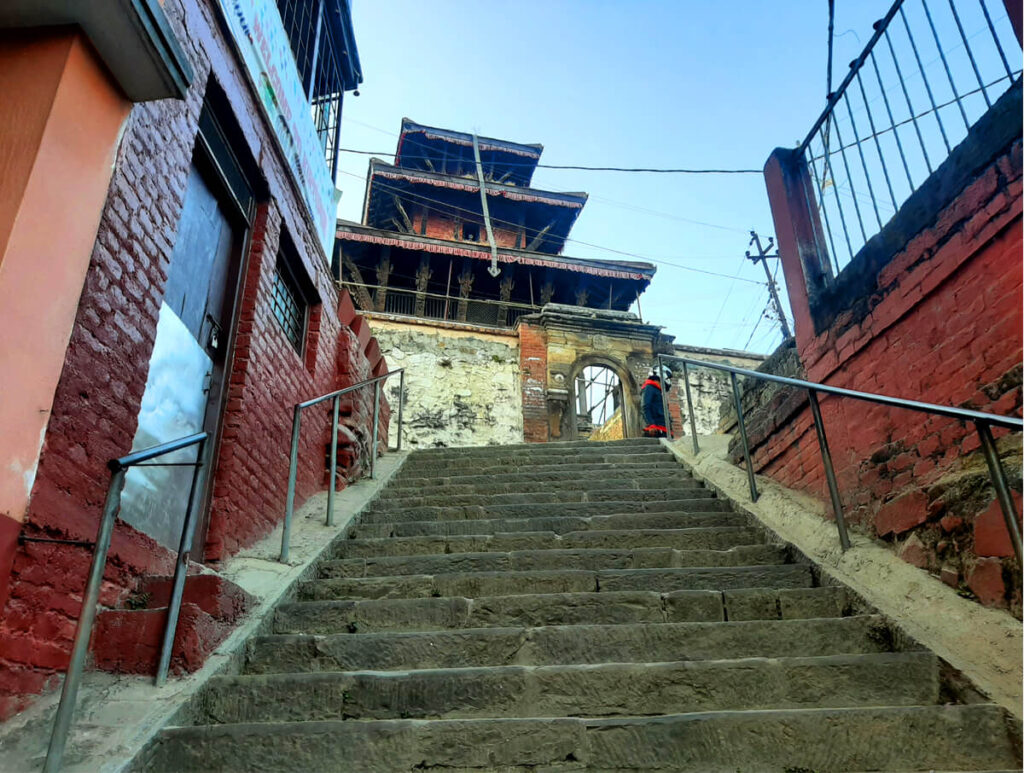 There is two stone statue of elephants just near to the door of the temple and one large bell which is believed to be one among the four bells of Ghantaghar.
Some of the local peoples reach every morning here as the morning walk.
4. Newa Lahana Restaurant
Want you to taste Newari Food?
Most of the local people of Kirtipur are belongs to the Newari community who are living from a long generation.
So, there is no doubt to be a large number of Newari hotels and restaurants here. Among them, Newa Lahana is the most visited and famous Newari food restaurant in Kirtipur.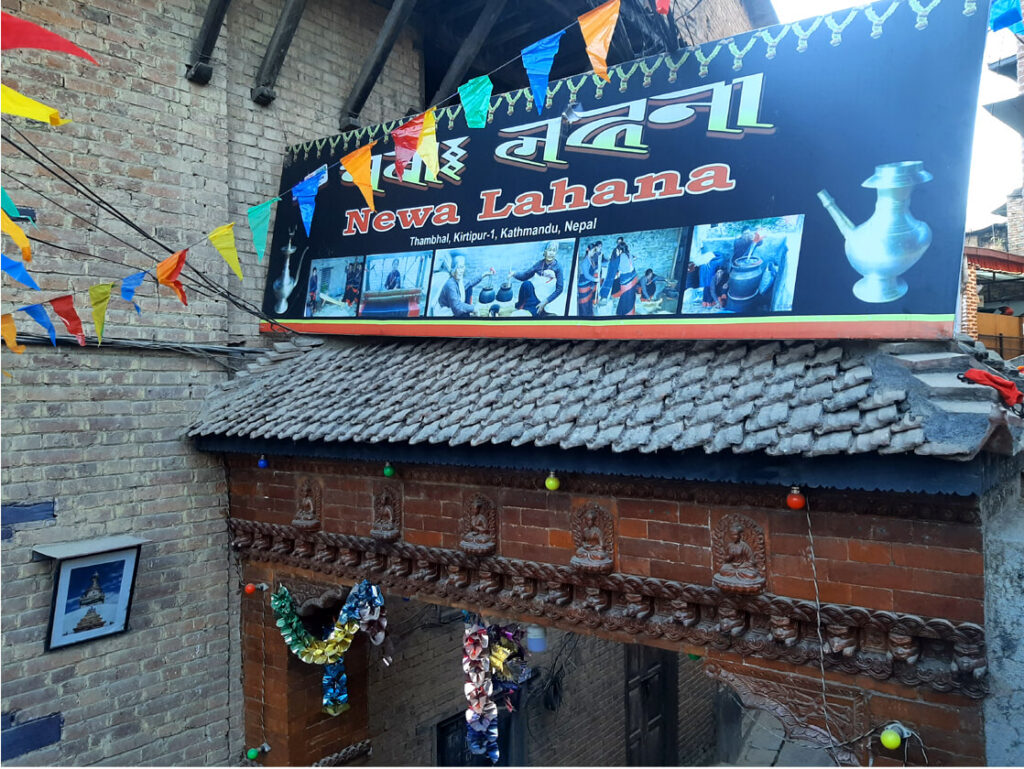 In this restaurant, more than 50 varieties of Newari food are available including baras, choyalas, and sukutis.
We will find most of the restaurant members in the cultural dress. You will be served there with great hospitality.
To sit on the floor with cushions is another interesting experience in Newa Lahana.
Don't miss to visit this restaurant at least once if you are a Newari food lover.
5. Kirtipur Gumba
Kirtipur Gumba is one of the famous Buddhist monasteries in Kirtipur. It is a cool, calm, beautiful, and quiet place.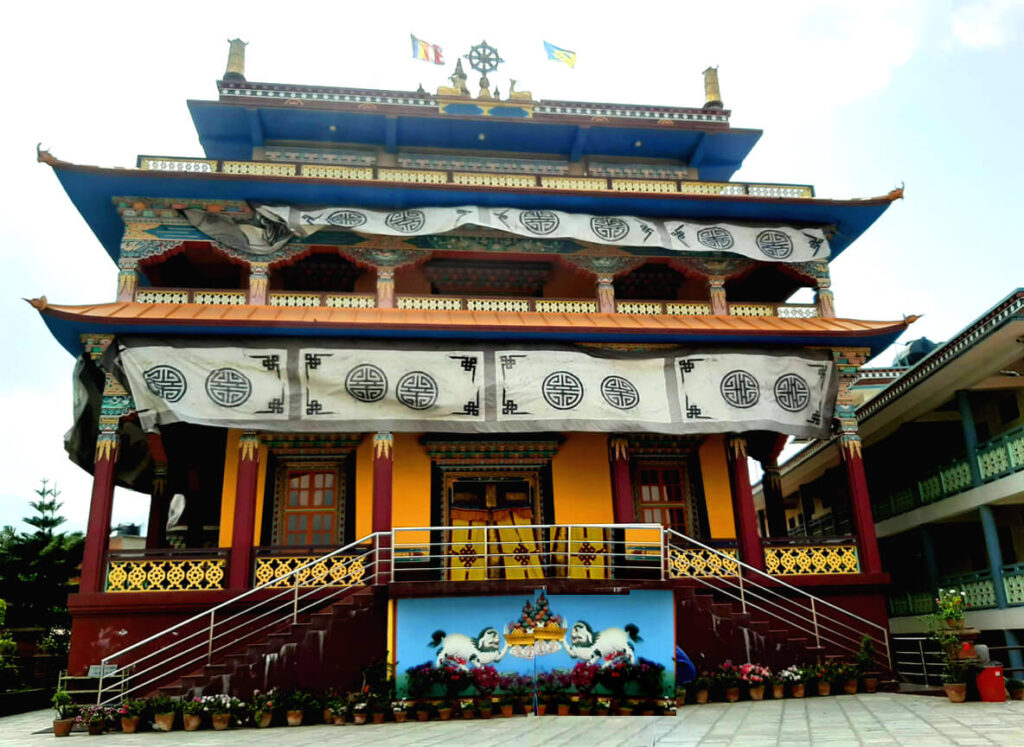 Visitors can not enter the monastery but can enjoy the peaceful environment of it. The monastery is surrounded by a beautiful garden with different species of flowers. So, the spring season time for the blossom of flowers is a perfect time to visit it.
6. Tinthana Suspension Bridge
Tinthana Suspension Bridge is one of the most visited bridges in Kirtipur. It takes only 20 minutes on foot from Naya Bazar. It connects Kirtipur with Tinthana.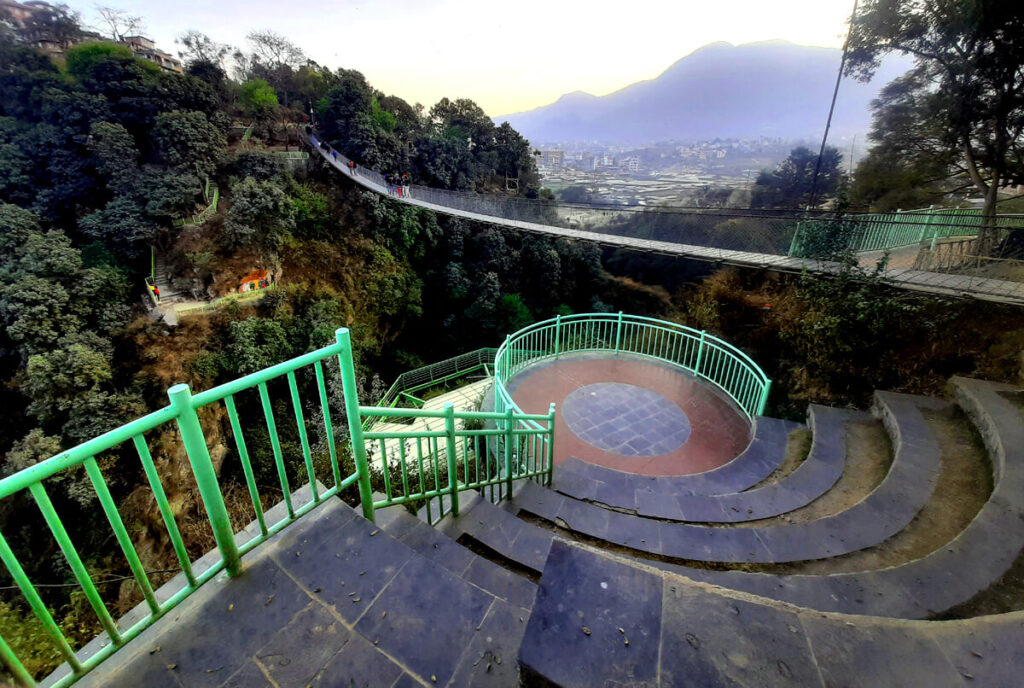 This bridge gets more visitors during the early morning and evening because of the enjoyable weather. The green forest around the bridge and different views of the valley makes the moment more interesting.
It can be a little adventurous for those who have not visited any bridge before.
7. Dhamma Kitti (Kirtipur Vipassana Center)
Are you looking at the best places for meditation?
Dhamma Kitti is one of the best places to meditate which is located in the Kirtipur Municipality. It is large in the area including a dhamma hall, a kitchen, and few residences for students and teachers.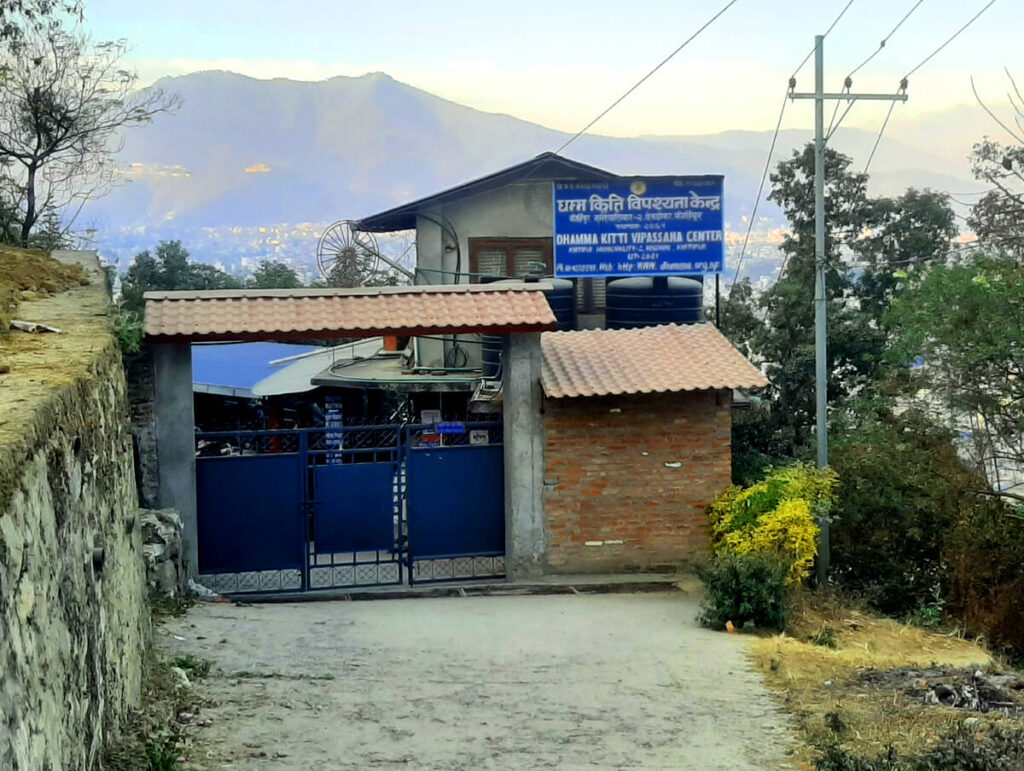 The center offers various meditation courses including a ten-day course, a three-day course, a one-day course, and a children's course.
We have to pay no charge for the course but can donate after the course if we need it. Before joining any vipassana course, it is necessary to prepare ourselves. It is because the course is tough and we have to fallow all of the rules very strictly.
From my experience, I want to advise you to visit it at least once if you believe in the power of meditation. Every course is very useful and works for all of us.
8. Chilancho Stupa
Chilancho Stupa is an important historical stupa in Kirtipur. The main stupa contains a various number of the smaller stupas at its four corners.
It is a beautiful and peaceful place to visit. In Chilancho Stupa, we can enjoy the mind-blowing art and its significant environments.
9. BP Koirala Memorial Planetarium Observatory and Science Museum
BP Koirala Memorial Planetarium Observatory and Science Museum is Nepal's first science museum located in Tribhuvan University in Kirtipur. There are more than 50 technological equipment used in the research of astronomy, botany, and science.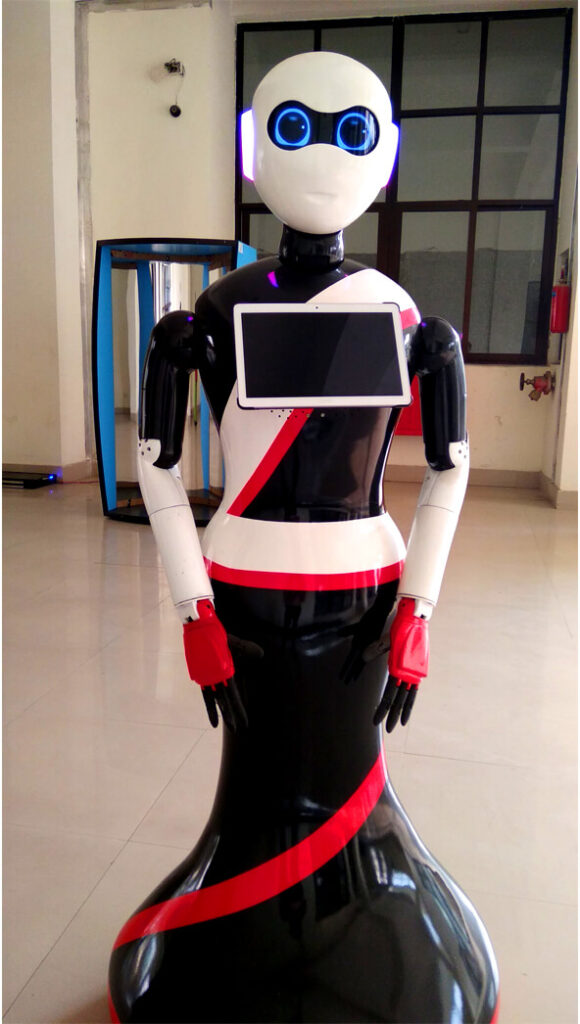 A robot named Foolmaya is another attractive thing in this museum. Visitors can also talk with Foolmaya.
All of the equipments are designed in the way of entertaining; it helps visitors to learn science and technology with fun.
There is a separate room for flora collection, where you can find different types of live and preserved plants.
This museum is the best place to visit. Especially, If you are a science student, then don't miss to visit the museum at least once.
10. Dev Pukku
Dev Pukku is one of the best places to visit in Kirtipur. It is an old royal palace with a beautiful pond. The pond is supposed to be the origin of water in Kirtipur.
It is one of the gorgeous and must-visit places in Kirtipur The area is now covered with houses; still, it gets a large number of visitors during summer.
We hope this article helped you find the best places to visit in Kirtipur.
If you liked this article, then please stay connected to us on Facebook and Twitter.