Do you want to visit Umbrella street in Nepal?
The streets decorated with colorful umbrellas has named Umbrella Street. It has been constructed in some places in Nepal i.e. Chitwan, Kathmandu, Pokhara, Itahari, and Dharan.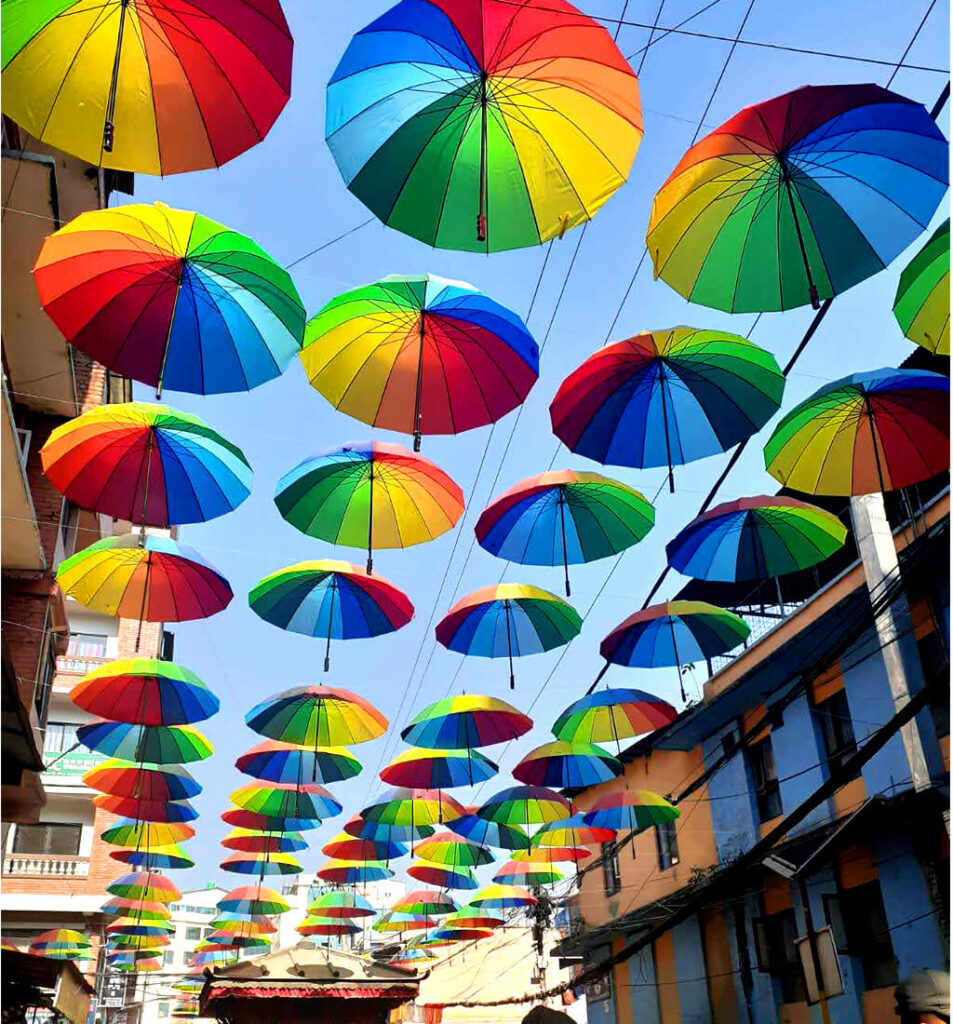 Nowadays, these umbrella streets are being famous for TikTok and video makers. Umbrella Streets also locate in many places in London, Japan, and Turkey.
In this article, we will share about the five umbrella streets in Nepal.
1. Umbrella Street in Chitwan
This is Nepal's first Umbrella Streets. It locates in Patihani, near the Rapti River. Patihani is one of the famous places in Chitwan where large numbers of tourists come to observe the wild animals and birds of Chitwan National Park.
This street contains about 480 hanging colorful umbrellas which offer a calm environment to visitors. A fountain and the beautiful arts make the street more attractive.
It offers a magnificent view of the sunset. Visitors can also enjoy jeep safari and boating. Tharu is a major ethnic group in this place.
2. Umbrella Street in Dharan
This street has constructed on Bagarkot, Dharan. It situates only 1 km away from Bhanu Chowk. Visitors can easily reach here either by personal vehicles or by auto-rickshaw. Colorful umbrellas have been kept here. It attracts large numbers of local visitors.
3. Umbrella Street in Pokhara
Umbrella Street in Pokhara is another viral place for video and Tik Tok makers. It locates in the entrance gate of Skate Park which situates in Buddha chowk-10, Pokhara. At the right side of street, some tables have been kept where visitors can enjoy tea or coffee with their friends and families.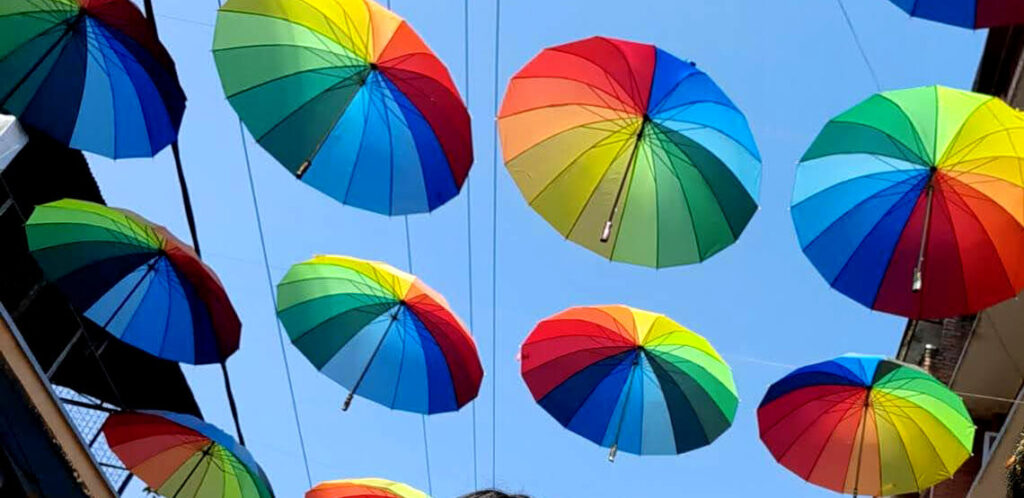 It gets large numbers of local visitors, especially on Saturday. On the walls, 'No Smoking Zone' sign-boards have been kept. It also offers bike parking facilities. There is also a ceiling swing where visitors can take photos.
Umbrella Street has also been build near Phewa Lake of Pokhara from where the visitor can see the entire view of the lake. They can also enjoy boating and paragliding. There is also an artificial half-moon, where the visitor can sit and take their beautiful photo.
4. Umbrella Street in Itahari
It is also found inside the Gokarna Resort, Itahari. This resort locates in Sundar Haraicha-4, Baliya, Itahari.
5. Umbrella Street in Kathmandu
Note***: Permanently removed umbrellas on 3rd January 2021.
This is one of the famous places to visit in Kathmandu which was constructed by Sankata Club and Kathmandu Metropolitan City's Ward No.22 office. It is located near New Road Gate and takes only about 5 minutes on foot from the old bus park.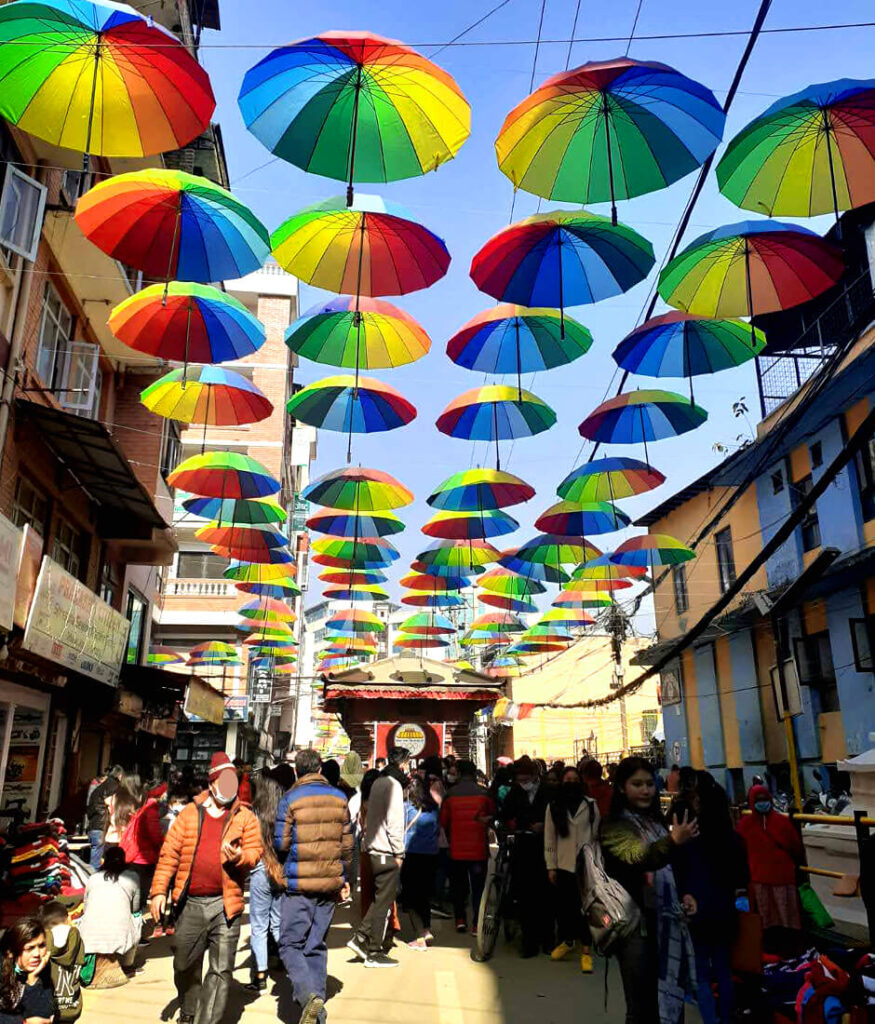 More than 400 colorful umbrellas had been kept just above the road near to Sankata temple. Every day, it received a large number of local visitors. It was also a viral place for TikTok and video makers.
After the set up of colorful umbrellas over the street of new road, it got viral on social media within a few days. As a result, this place started to get large numbers of local visitors every day. Because of the mass gathering of visitors, local people faced transportation and street management problems. At the same time, there was also the risk of spreading the coronavirus. So it had removed immediately (within 10 days).
We hope this article helped you to find the umbrella streets in Nepal.
If you liked this article, then please stay connected to us on Facebook, Instagram, YouTube, and Twitter.