Top 10 Best Places to Visit in Chitwan, Nepal
Do you want to know top10 best places to visit in Chitwan, Nepal?
Chitawan is the fifth largest city in Nepal. It is located in the Terai region of Nepal. Since it is rich in natural and religious resources it is a popular destination for tourists.
In this article, we will share with you the top 10 best places to visit in Chitwan.
1. Chitwan National Park
Chitawan National Park is the first established national park in Nepal. It belongs to a World Heritage Site and is one of the most visited places in Chitwan.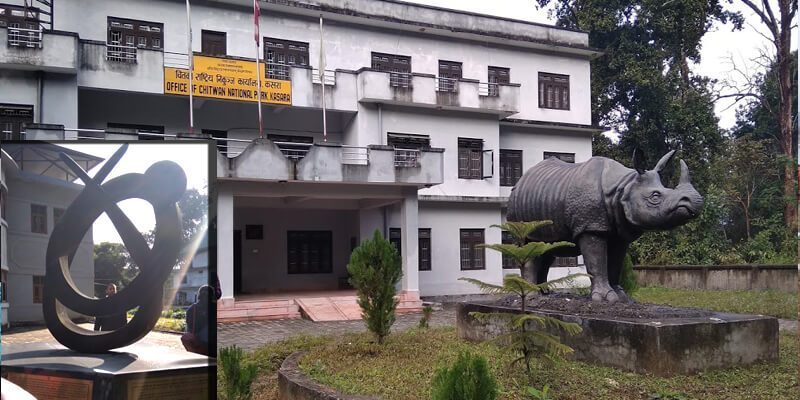 This national park conserves different species of wild animals and birds including Bengal tigers, one-horned rhinoceros, and Asiatic elephant.
In this national park, visitors can experience Elephant back safari, Jeep Safari, wilderness walk, and bird watching.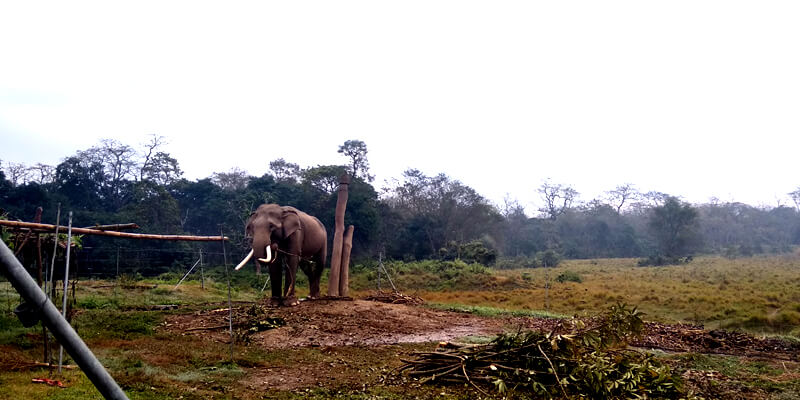 Chitwan national park is located in the Terai region of the country. Visitors will also get the chance to be close to Tharu people, culture, and lifestyle.
Students visit this park for educational purposes also. It includes most of the endangered wild animals and birds.
If you love nature, then don't forget to experience this heavenly place once.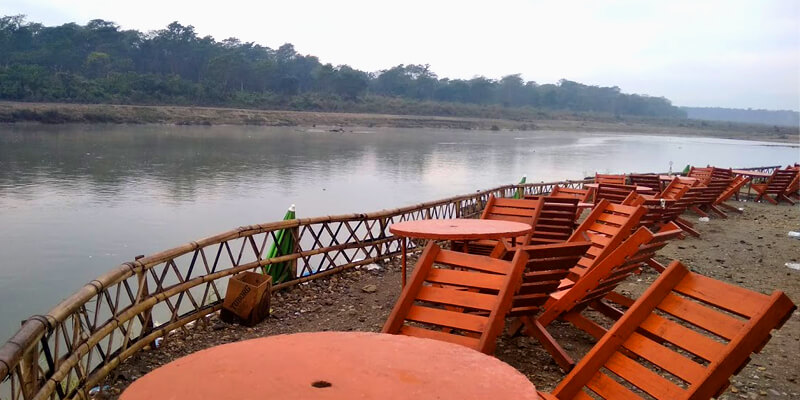 2. Jalbire Waterfall(Lamo Jharana)
Jalbire Waterfall is one of the longest waterfalls (about 60 meters) in Nepal. It is being popular as a best and beautiful tourism place.
This place gets more visitors during the summer. Local and other visitors enjoy a hot day of summer with swimming and bathe on this cool and forceful waterfall.
The beautiful green hills, panoramic view of mountains and stones where fall strike make the fall more beautiful.
This beautiful waterfall is not less than heaven where everybody can lose themselves. So, don't forget to visit this Jalbire waterfall, if you are planning for a holiday treat in Chitwan.
3. Devghat
Devghat is one of the holiest places in Nepal. There are some various temples and caves where mostly Hindu people come for meditation and worshiping of God.
It has its own historical, cultural, and religious value. It is located at the junction point where the Seti Gandaki and Krishna Gandaki two famous rivers meet.
Devghat looks more attractive by its geographical and wildlife features.
Please visit this place at least once if you like to feel the real holiness of this place.
4. Bishazari Tal
Bishazari Tal (Bishazari Lake) is one of the best places to visit in Chitwan. It is a protected area with a mind-blowing lake in the inner Terai of the country.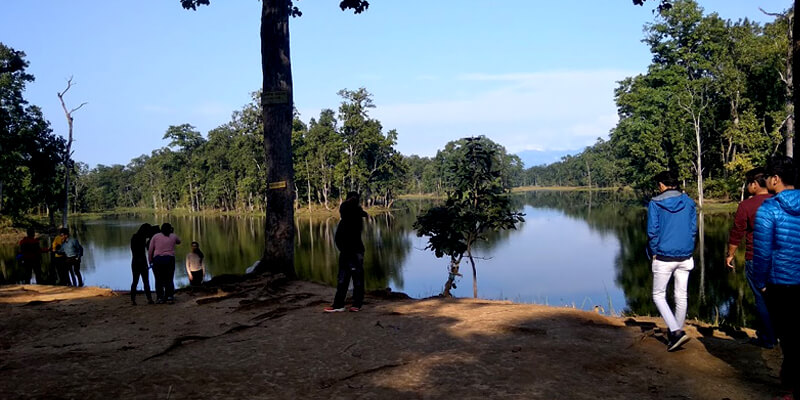 This lake is a good home for various birds and aquatic animals including crocodiles and rhinos. There is a greenish forest where visitors can experience the Jungle safari also around this lake.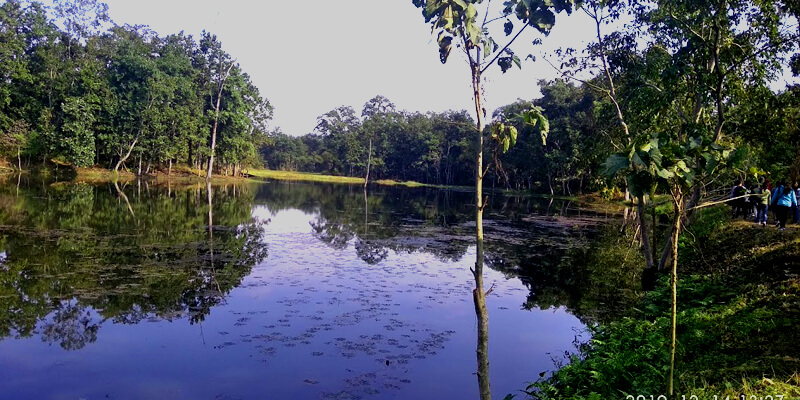 Bishazari Lake is the most peaceful place. The huge chirping of birds and animal sounds makes the jungle tour more interesting.
5. Chitwan Tharu Village
Want you to learn about Tharu culture and tradition?
Chitwan Tharu Village is one of the most popular places for visit in Chitawan which gets thousands of visitors every year.
In the Tharu village tour, we can directly observe their language, lifestyle, culture, festival, custom, Marriage ceremony, etc.
There are all traditional houses in entire village. They take agriculture as their main occupation and also in close relation with nature and domestic animals. The tour guide is also available here.
There is a small museum in the Tharu village where the tools and traditional clothes are stored used by Tharu people in their daily activities.
6. Sauraha Art Gallery
If you are an art lover then don't miss visiting Sauraha Art Gallery. It is a big collection of traditional and creative arts where we will find working artists with their full dedication.
Art is a way to express positive feelings and thoughts. The art will be complete only after the artist includes the emotions on it.
In this art gallery, you will find the beautiful painting of a landscape, wild animals, and villages. Sauraha Art Gallery can be the best place if you are seeking for your painting.
7. Elephant Breeding Center
Elephant Breeding Center is the best place to visit in Chitawan which protects more than 20 elephants. It is the best place to learn about elephants and their activities.
We will get the opportunity to directly observe the small elephant breastfeeding, eating, and spending their days. We will be very close to Elephants there.
The elephant breeding center consists of a small museum also. The museum stores a few elephant bones, posters, and riding pieces of equipment.
8. Ranipokhari
Ranipokhari is located at Saradanagar, Chitwan. It is the newest place for visitors and getting one of the best places to visit in Chitwan.
There is a beautiful lake surrounded by gorgeous statue including a Buddha statue. It is famous for the picnic spot.
Ranipokhari is a freshwater lake with various aquatic birds surrounded by green forest. Boating is another attraction of this lake.
If you are a nature lover, then visit this place at least once.
9. Shiraichuli Hill
It is one of the highest hill peaks in Chitwan.
The top of Shiraichuli hill provides a stunning sunrise and sunset views.
The hill offers small trekking with challenging steep boulders and streams.
10. Sauraha Tharu Culture House
Sauraha Tharu Culture House is the collection of Tharu culture and instruments used in their daily lives.
The house provides the nightly show to their guests which offer traditional Tharu songs and dances.
At the end of the night show, you will also get the opportunity to dance and take photographs with them.
The amazing Peacock dance is another attraction of this house. Please, don't miss the opportunity to enjoy Tharu dance if you are in Chitwan.
We hope this article helped you find the best places to visit in Chitwan.
If you liked this article, then please stay connected to us on Facebook and Twitter.