Top 15 Best Places to Visit in Province 3 of Nepal
Are you looking for the top places to visit in Province 3 of Nepal?
Choosing the top places to visit to make your travel wonderful and easy. It will also guide you to what to do in there where you are going to visit.
There are many best places to visit in Province 3 rather than other provinces. So, it is so awful to choose the top places to visit in province 3.
Hence, we've reviewed the top 25 best places to visit in Province 3 of Nepal that will help you.
The list of popular 25 places that you can visit in Province 3:-
1. Hanumandhoka Palace
Hanuman Dhoka Palace lies at the heart of Kathmandu valley. It is a complex of ancient structures and also a royal palace of the Malla Kings and the Shah dynasty. Hanuman Dhoka is a Nepali word which means Hanuman (a Hindu deity) door or dhoka means door or gate.
We can see the ancient and artistic structures of the mid-16th century there. We can see a magnificent statue of standing Hanuman which we also call monkey god in red cloth with an umbrella at the side of its main entry gate. There is also a stone statue of Lord Narsimha, the half-man, half-lion incarnation of Lord Vishnu.
We can see statues of God Shiva and Goddess Shiva riding on stone lions on each side of its gate. There are other small statues of Lord Krishna, King Pratap Malla, and queen on the top of the gate. Many traditional and artistic buildings surround it from all around.
Especially tourists come here to observe the history of Nepal from many countries. So, it is one of the best places to visit in Province 3 of Nepal.
2. Pashupatinath Temple
Pashupatinath is the best place to visit in Province no.3 of Nepal. It is one of the Hindu temples and dedicates to the god Shiva. This temple situates on the bank of the Bagmati River that is supposed to be a holy river for Hindus and Buddhists.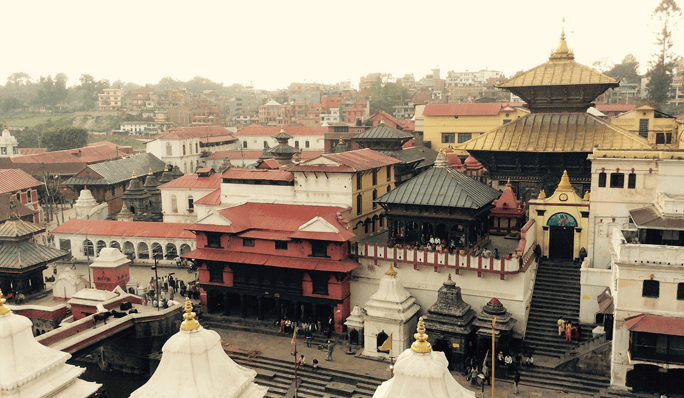 Pashupatinath Temple covers about 246 hectors. Nearly 518 temples and monuments are found within this temple area. Among them, the main temple offers a pagoda-style design and consists of a gold pinnacle, four main doors, and two-level roofs.
In 1979, this temple had added to 'UNESCO World Heritage Sites'. Prachanda Dev (Licchavi king) had built this temple.
This temple has no fixed closing time; it depends on the season (6:30 pm in November and 8 pm in summer). Large numbers of people gather in Pashupatinath to celebrate festivals like Maha Shiva Ratri and Teej.
If you are looking for the peaceful place of Province no.3 in Nepal, the Pashupatinath temple can be your best choice.
3. Chitwan National Park
Chitwan National Park covers an area of 952.63 km square of the four districts i.e. Nawalparasi, Parsa, Chitwan, and Makwanpur. It is the first national park in Nepal that established in 1973. It belongs to the World Heritage Sites since 1984.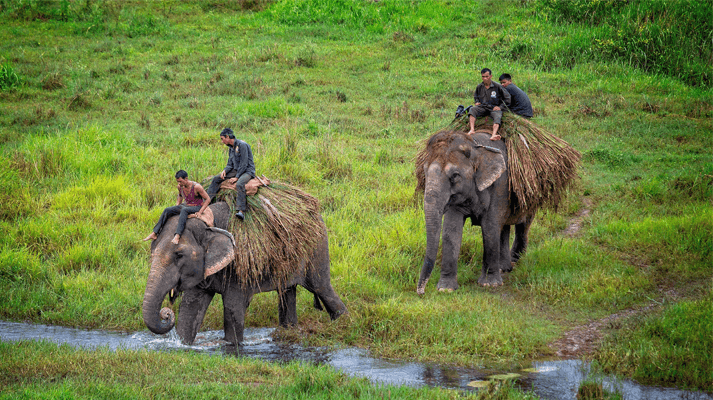 Many other national parks, hills, mountains, lakes, rivers like Narayani, Rapti, Reu, etc. are connected with this park. Chitwan National Park includes spectacular landscape, forested hills and grasslands, lush vegetarian and also famous religious areas like Bikram Baba at Kasara, Balmiki Ashram in Tribeni, and Tharu community who have unique cultural practices.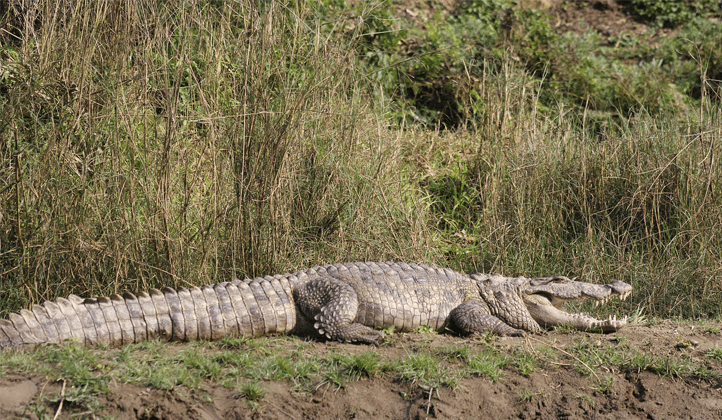 It is rich in flora and fauna. We can observe One Horn Rhino, Royal Bengal Tiger, Sloth Bear, Leopard, King Cobra and rock python, 17 other snakes, gharials, mugger crocodiles, 543 species of birds including endangered and globally threatened species, etc. There is lush grassland about 20 percent of the park and 50 different types of grasses.
We can enjoy Elephant Safari, Jeep Safari, bird watching, hiking, etc. there. The elephant safari of this national park is one of the cheapest ones as compared to others. We can go there by public buses, tourist coaches, private vehicles, and airline services easily. So, it is one of the best places to visit in Province 3 of Nepal.
For more detail, please click on this video:
4. Kalinchowk Bhagawati Temple
Kalinchowk Bhagawati Temple lies in Kalinchowk VDC of the Dolakha district. It is standing with an altitude of 3842m from the sea level. It is a beautiful part of the Gaurishankar Conservation Area and it is surrounded by two rivers Sun Koshi River and Tama Koshi River.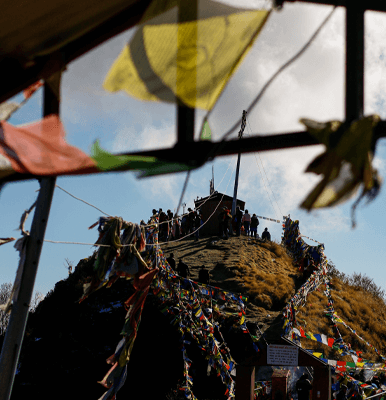 Many devotees come here to worship goddess Kalinchowk Bhagawati and to take blessings. There is a small pond inside the temple from where devotees get water as pure water. Since this temple is on the top of the hill, we can see spectacular views of mountains like Mt. Langtang, Mt. Kanchanjunga, Mt. Jugal, Mt. Sumeru, Mt. Ganesh, and other small mountains.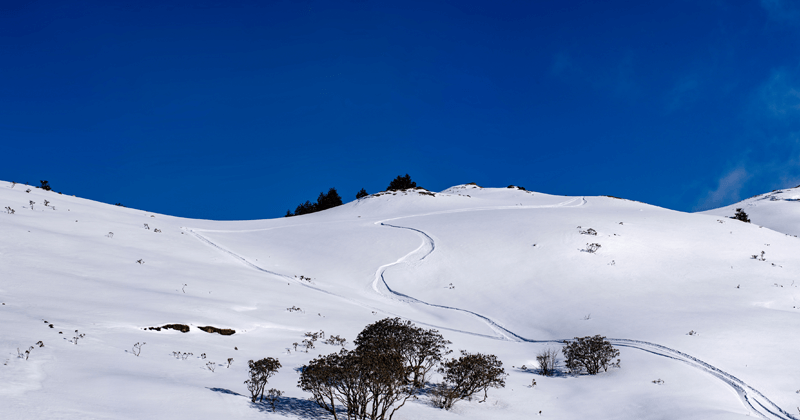 On the way to Kalinchowk hill, there is a village named Kuri which is full of grasslands, landscapes, a forest of rhododendron, and other medicinal herbs. During the months of August and September, fully Kalinchowk will be covered with shining snow like a diamond. So, at that time, many tourists from all over the world come to visit and play with snow here.
Especially, many pilgrims visit this temple on Tuesday and Saturday. We can go there during Dashain and Janai Purnima when people come to tie holy thread or Janai with their wishes. We can enjoy hiking or traveling by cable car. So, if you are going to visit Province 3 then don't forget to visit this place.
5. Namo Buddha Monastery
Namobuddha Monastery is a Tibetan Buddhist monastery which lies 40 km far away from Kathmandu, Kavrepalanchowk District. Actually the monastery's name is Thrangu Tashi Yangtse Monastery. Since it lies at the top of the hill in Namobuddha Municipality people call it also Namobuddha Monastery.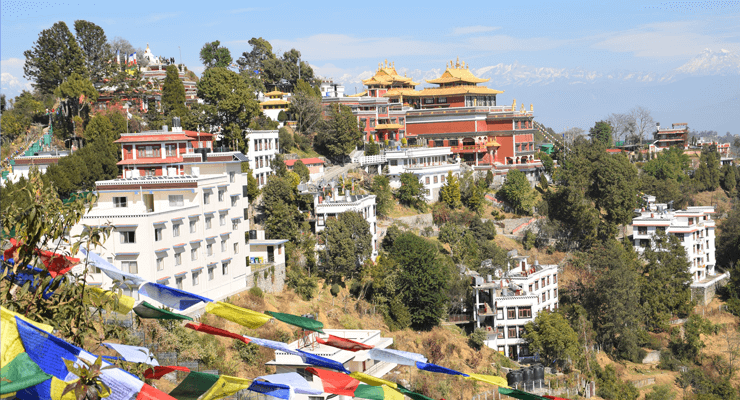 According to an old legend, Prince Mahasatwo had sacrificed his life for a dying tigress with her five little babies. That tigress had just left his bones there where now is the actual stupa of Namo Buddha. Since Gautama Buddha had declared he was the reincarnation of Mahasatwo people named this place as Namo Buddha or homage of Buddha.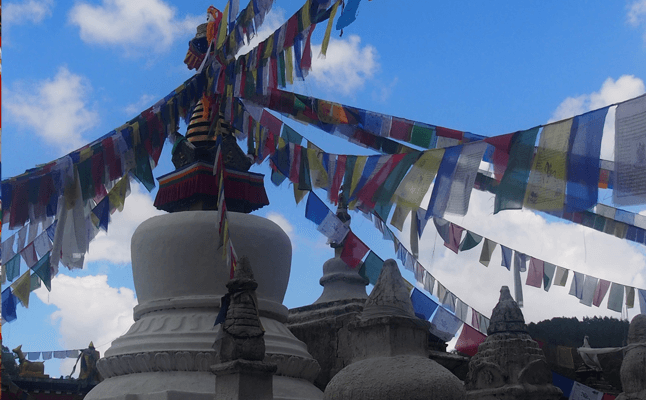 Now it is the home of hundreds of monks. Tourists come here to visit as one of the most important Buddhist pilgrimage sites of Nepal. People come here to do meditation in a peaceful environment. You can go there by public bus or taxi there.
6. Thso Rolpa Glacial Lake
Tsho Rolpa Lake lies in the Rolwaling Valley, Dolakha District which is one of the biggest glacial lakes of Nepal. Since it is at an altitude of 4580 meters high Mt. Lantang and Mt. Everest, it is growing considerably because of melting or global warming in the Himalayas.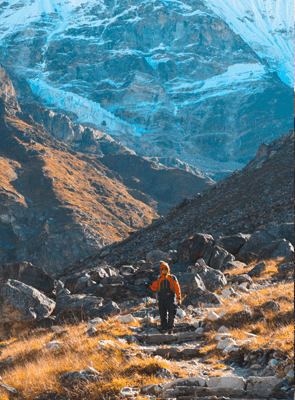 Especially, this place is best for trekking. Many tourists from all world come here for trekking because it is one of the finest and well-managed routes of Nepal. The trail begins from Charikot in Dolakha along with Tamakoshi River. We can see beautiful waterfalls above the Tamakoshi River.
On the route, we can see spectacular views of white snow-covered mountains including Gauri Shankar. We can observe Terrace fields, and traditions, cultures of Sherpa people there. So, it is one of the best places to visit in Province 3 of Nepal.
7. Numbur Cheese Circuit
Numbur Cheese Circuit lies in Ramechhap District which is about 190 km east of Kathmandu, the capital city of Nepal. It is the best trekking trail for those people who want to touch up with the off beaten trail. We can see the first factory in Nepal and the most visited place, Thodung Monastery on the route.
It takes 12-16 days to complete this trail which starts from Shivalaya, in the lap of Mt. Everest, and also the starting of Everest Base Camp Trek. We can observe breathtaking and spectacular views of majestic mountain peaks like Mt. Everest, Mt. Gaurisankar, Jugal, Numburchuli, Lantang, and many more. There are also deep river gorges, lakes, terraced fields, etc.
We can observe the traditional and cultural lifestyles of Sherpa people and taste traditional Yak cheese. Especially people come to experience meditation and spiritual life in beautiful monasteries which belong on its route.
8. Baudhanath Stupa
Baudhanath Stupa is one of the largest stupas in the world which lies about 11 km from the center of Kathmandu Valley. It belongs to the UNESCO World Heritage Site since 1979. Actually Licchavi rulers had renovated this stupa in the 8th century.
It is about 36 meters high which dominates the skyline in the area. It is in Mandal design which is reflecting the Gyangtse of Tibet. There are other small stupas like Charumati Stupa around the Baudhanath Stupa.
We can observe all-seeing-eyes of Buddha which symbolize awareness and knowledge. There are 108 small images of Buddha around the base of the stupa. There is a great and artistic gateway in front of the stupa at the side of the main road.
Besides the gateway, people sell many worshipping things; we can eat Tibetan noodles; especially it is famous for Laping. There are beautiful and luxurious hotels where many tourists from all around the world stay. We can feel a peaceful and different kind of spiritual environment there. So, it is one of the best places to visit in Province 3 of Nepal.
9. Gosaikunda Lake
Gosaikunda Lake lies in the Rasuwa District with an elevation of 1380, Nepal. It is one of the main parts of Lantang National park which covers 4.0 square mi. of it. This lake remains frozen in winter for six months and it melts in summer in the form of Trishuli River.
People believe that Lord Shiva had created this lake by shoving his Trishul, a holy trident from the mountain to cool his throat. There is still a stone in the middle of the lake that people believe it as Shiva shrine. So, the water of Gosaikunda Lake is holy and significant for Hindus and Buddhists. Especially, people come here from many places during the festivals Gangadashahara and Janai Purnima.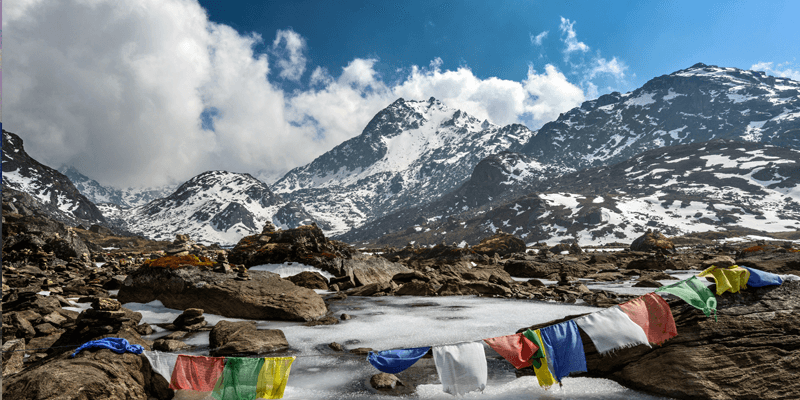 Gosaikunda Lake is also famous for Trekking Route which is near trekking from Kathmandu. It is an attraction of the Dhunche-Helambu trekking route. We can see spectacular and dramatic views of Mt. Manaslu, Mt. Ganesh, Himal Chuli, Mt. Langtang range, Tibetan peaks as well as the three main lakes of Gosaikunda i.e. Gosaikunda, Saraswati Kunda, and Bhairab Kunda. So, it is one of the best places to visit in Province 3 of Nepal.
10. Saping Village
Shaping is a very populated village of Kabhrpalanchok District, Nepal which lies about 60 kilometers east of Kathmandu. There are many tourist destinations in this village like Mulkharka Bhimsenthan, Saping Siddhi Ganesh Temple, etc.
Since it is a hilly terrain with rugged landscapes and varied altitudes we can enjoy the variations in the climate system of this village.
Saping Siddhi Ganesh Temple is one of the main attractions of this village. There is a long story behind the establishment of this temple. A foreigner had visualized Lord Ganesh sitting under the Pipal tree in his dream. So, he said to make a temple of Lord Ganesh for his student there. Now, it is a famous religious place.
People come here to observe the life of ordinary people and their cultures and they come here for its pure natural beauty. So, we can enjoy our holiday or the weekend here with our family and friends.
11. Patan durbar Square
Patan Durbar Square is one of the three Durbar Squares of Kathmandu Valley which situates at the center of Lalitpur District. It is the royal palace of Malla Kings. Patan Durbar Square listed as UNESCO World Heritage Site.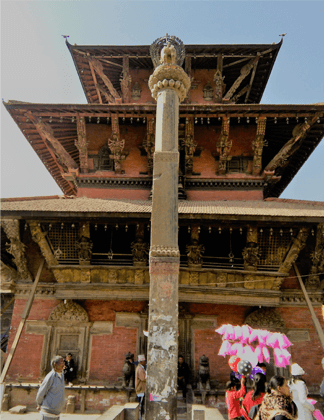 There are 136 courtyards and 55 major temples of both Hinduism and Buddhism inside the area of Patan Durbar Square. The whole palace is full of Newar architectures and structures. We can see many temples and other structures of Newa people (historical inhabitants of Kathmandu Valley) around its area.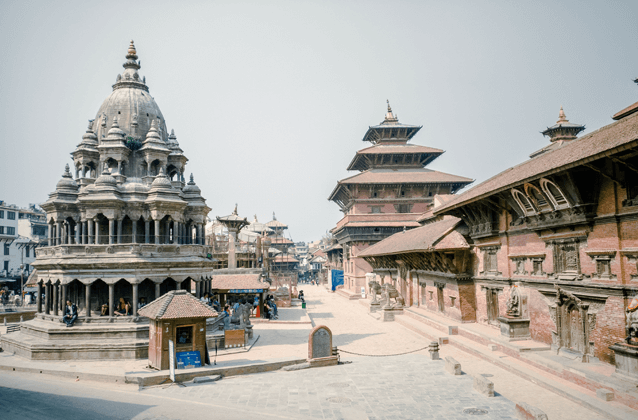 The main attractions of this durbar square are Krishna Mandir, Bhimsen Temple, Vishwanath Temple, Taleju Bhawani temple, Patan museum, Hiranya Varna Mahavihar, Golden temple, etc. There are three main courtyards i.e. Keshav Narayan Chowk, Mul Chowk, and Sundari Chowk where we can observe magnificent architecture including the royal bath called Tushahity.
We can see and learn the Thanka and Pauba which are the historical traditional paintings of Nepal, traditional crafts like stone masonry, woodcarving, and pottery there. It is famous for both its historical and religious importance. So, it is one of the best places to visit in Province 3 of Nepal.
12. Changunarayan Temple
Changunarayan Temple lies on high hilltop 'Changu', Changunarayan Municipality of Bhaktapur District. It is about 7 miles from Kathmandu that dedicates to Lord Vishnu, a Hindu deity. People know this temple as the oldest temple in Nepal.
According to some history myth, this temple named after Champak, the daughter of the Kashmiri King who had married the prince of Bhaktapur. It is in a two-story pagoda style. There are many mythical beasts like elephants, lions, ram-horned griffins, and amazing carvings of Tantric deities on all sides of all four entrances of this temple. We can see many statues and arts related to Lord Vishnu and other small temples of Lord Shiva, Astha Matrika, Chhinnamasta, Kileshwor, etc.
Especially, there will crowd of people during the festivals like Changu Narayan Jatra, Jugadi Nawami, Haribodhani Ekadashi, Nag Panchami, etc. Local people come here for daily Puja and Arati. Champak tree forest and Newar community surround it.
We can find many medium and small-sized hotels, lodges, restaurants, etc. as the facilities. And an interesting thing is that there is an ancient stone tap which people believe it was from Lichhavi time.
13. Nagarkot
Nagarkot situates 32 km east of Kathmandu, Bhaktapur District of Nepal. It is an elevation of 2195 meters that offers a panoramic view of the Kathmandu Valley. Thickly forested hills of pine trees surround it from all around.
We can see the broadest and magnificent views of the Himalayas like Annapurna range, Manaslu range, Ganesh Himal, Jugal range, Numbur range, Langtang range, and also the Shivapuri National Park. So, it is one of the most scenic spots of Bhaktapur District.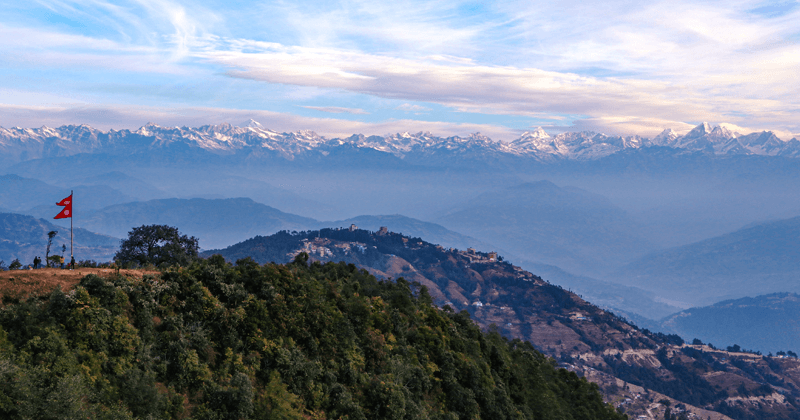 It is also famous for the most spectacular views of sunset and sunrise. Tourists come here for hiking, paragliding, biking, sightseeing, and other adventurous activities. We can go there by public buses or private vehicles easily. There are many good hotels and restaurants for accommodation. The best season to go to Nagarkot are October to December and March to April.
14. Indra Sarovar Lake
Indra Sarovar Lake is the largest manmade lake in Nepal which we also know it as Kulekhani Dam. It lies at the deep gorge between Markhu and Kulekhani VDC, Makwanpur District. The Kulekhani Hydro Project build this lake which is 7 km long.
It is a hiking destination for internal and external tourists. This lake is famous for fish farming. We can visit and enjoy the scenery and beauty of Markhu village, a small place which is the habitat of the various groups of Newar, Tamang, Magar, Bahun, etc. and a suspension bridge across the Lake Indra Sarovar where we can take photographs.
Although it is an artificial lake, its panoramic landscapes and boating are very natural and fantastic. We can enjoy here with a camping fire in the evening, jamming with delicious and organic foods with local drinks.
15. Swayambhunath Stupa
Swayambhunath is an ancient religious complex that lies in Kathmandu Valley, Nepal. Since we can find many monkeys there, it is known as the monkey temple. It is one of the holiest Buddhist stupas with numerous shrines and monasteries of Nepal.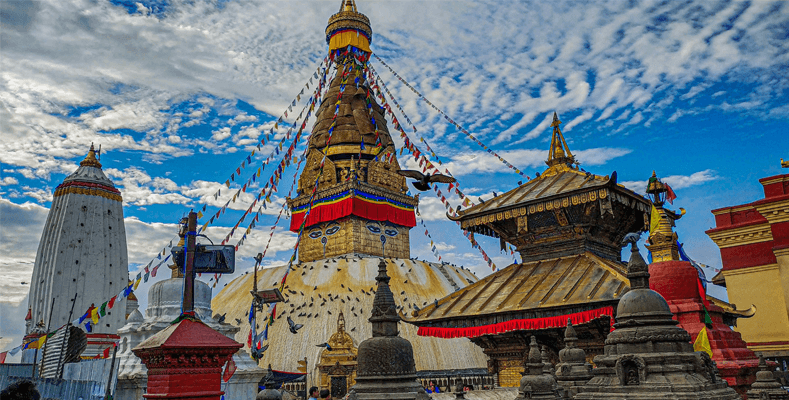 Actually, Swayambhu means 'self-existent one'. There is the main stupa consisting of a dome at the base and its higher structure is painted with big eyes of Buddha on four sides. It is decorated with colorful torans and many art crafts.
There are three big statues of Buddha in front of its gate which denotes the three emotions of Buddha. The pine trees surround it from all around. We can see the beautiful view of Kathmandu Valley from there.
Especially, it is famous for laping or Tibetan noodles. People from all around the world come here to visit and observe its religious and peaceful environment. So, it is one of the best places to visit in Province 3 of Nepal.
We hope this article helped you find the best places to visit in Province 3 of Nepal. And we wish that may your travel fantastic if you are going to visit Province 3 of Nepal.
If you liked this article, then please stay connected to us on Facebook, Instagram, YouTube, and Twitter.