Top 10 Best Places to Visit in Dang, Nepal
Want to know the best places to visit in Dang?
Among, 77 districts in Nepal, Dang is one of them which is located Midwestern part of the country. Ghorahi is headquartered in Dang. Bahun, Chetri, Tharu, and Chaudhari are the main local community of this district.
Rapti river and Babi river, the famous rivers of Nepal, run within this district. The district is about 400 km away from the Kathmandu valley.
Ambiksewari Temple, Hungeshowr Shiva Mandir, Chaughera, Rapti Bridge, Dharapani Temple, Jakhera Lake, Purandhara Water Falls, Baraha Temple are the best places to visit in Dang.
1. Ambiksewari Temple
Ambiksewari temple is one of the most visited Hindu Temple in Nepal, located in the Ghgorahi (headquarter of Dang district). It is believed that the right ear of goddess Satidevi had fallen in the same place.
Ambiksewari temple is small but beautiful and surrounded by other few small temples. It is also famous by another name "Maiko Than" which means 'Mother Place'.
Both local and other visitors come to worship here. The temple offers a peaceful and clean environment. It gets more worshipers during the festival of Dashain.
2. Dharapani
Dharapani is one of the highly developing tourism destinations in the Mid-western region of Nepal.
The tallest Trishul has constructed in this place with a temple named 'Pandeshwor Mahadev Temple'.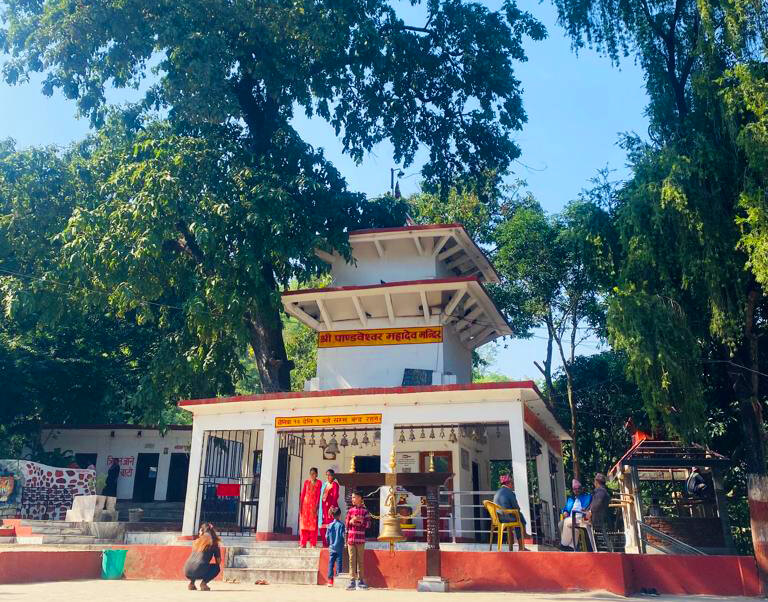 This Trishul was constructed with a combination of brass, copper, gold, silver, other metals in a large investment. It is the world's largest Trishul, weighing about 81 quintal and 13 kilos.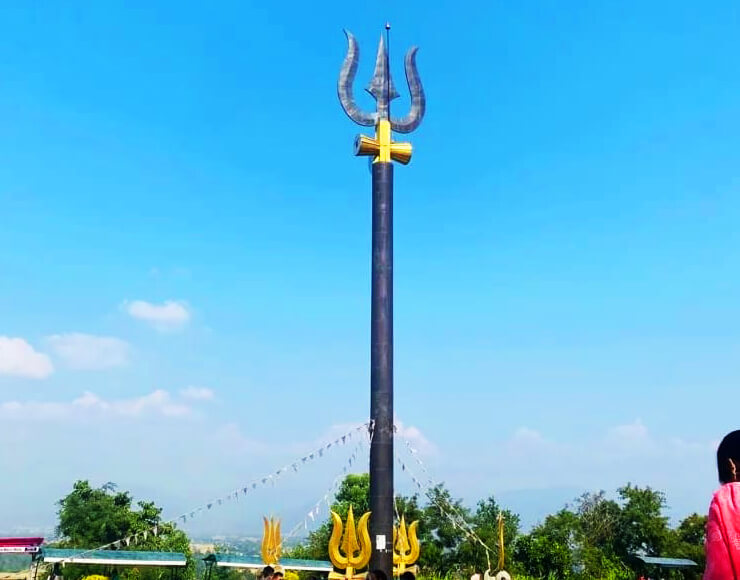 The Pandeshwor Mahadev Temple is a famous temple in Dang. So large number of people visit it in every day.
Every year, on the occasion of the Hindu festival Shivaratri, Dharapani used to host a 5-day festival.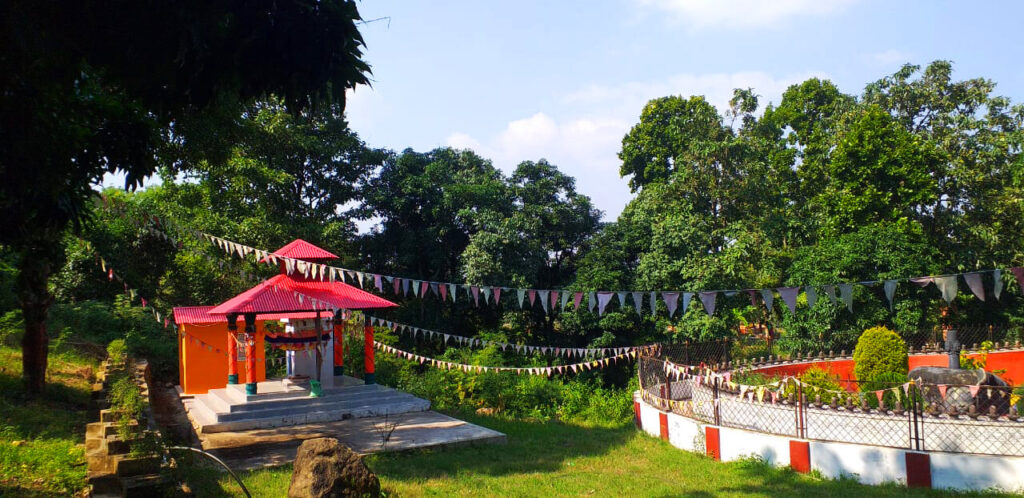 3. Jakhera Lake
Jakhera lake is one of the best places to visit in Dang. This lake is located on the lap of Chure Hills in Lamahi Municipality-5 of the district.
The Jakhera Lake is a freshwater lake and greenery dense forests surrounds it. Boating and fishing are the major attraction of the lake.
The lake is also famous as a picnic spot. It gets a large number of local and foreign tourists.
4. Purandhara Water Falls
Purandhara Water Falls is a beautiful natural fall which locates at the bank of the Babai River.
It also situates in the middle of the dense forest of Purandhara village of Dang. The forest is rich in flora and fauna.
Visitors can easily reach to Purandhara Water Falls that lies about 29 km away from Tulsipur Buspark.
It fills heavily with striking big stones from about the height of 45 m. Summer is the best time to visit and enjoy this fall.
5. Charinge Daha
Charinge Daha is one of the most visited historical places that locate in Dang Rampur. It is surrounded by greenery dense forests.
The water in the pond offers clear mirror reflections of trees and hills.
The local villagers use the pond for fishing and its water for agriculture.
About an altitude of 1250 meters, a historic cave called Sita Gufa is located near to the pond. It is one of the major attractions in Charinge Daha.
Charinge Daha is a natural origin of freshwater containing various species' aquatic living organisms and plants. So, it is the best place to study about pond ecosystem.
6. Bijauri, Chillikot
Chillikot is a place that located in Bijauri village Dang. Two ancient temples, Kalika and Malika Devi are the major attraction of this place.
In Bijauri village, some species of vulture are conserved. It is the best place for a field visit to zoology students. There is also an ancient palace.
7. Chaughera Temple
Chaughera Temple is one of the most visited Hindu temples located in Ghorahi, Dang. To enter the temple, you have to pass through a big colorful gate.
There are a few numbers of small temples with big trees. All of these colorful temples contain statues and images of various god and goddess.
The temple gets both local and other visitors in a large number.
8. Bat Cave
Are you looking for the bat cave in Nepal??
Here in Halawar VDC of Dang, a famous Bat Cave is located. A large number of bats live in this cave,
The well light management and guide make visitors easy to visit the cave.
9. Ganeshpur Park
Ganeshpur Park is the best place to visit in Dang. It is surrounded by forest and rich in natural things.
This park is a perfect place for those who are seeking for peaceful and green environment.
Local visitors come to enjoy nature and also for a picnic. If you are in Dang then don't miss to visit this beautiful park.
10. Sawarikot
Sawarikot lies at the top of the hill in Dang. The hill offers beautiful views of forests and villages.
We hope this article helped you find the best places to visit in Dang.
If you liked this article, then please stay connected to us on Facebook and Twitter.