Top 10 Common Village Works in Nepal
Do you want to know the most common works that are perform in villages of Nepal? Then, you are in right place. In this article, we will share with you the top 10 common village works. 
In villages of Nepal, people still live a traditional lifestyle. Most of the villages still lack good facilities for transportation, telecommunications, hospitals, and education.
The main feature of the villages in Nepal are fresh air, clean water, greenery scene, and peaceful environment. There used to be no names of pollution: air, water, sound, and land pollution. Most of the villagers involve in agriculture.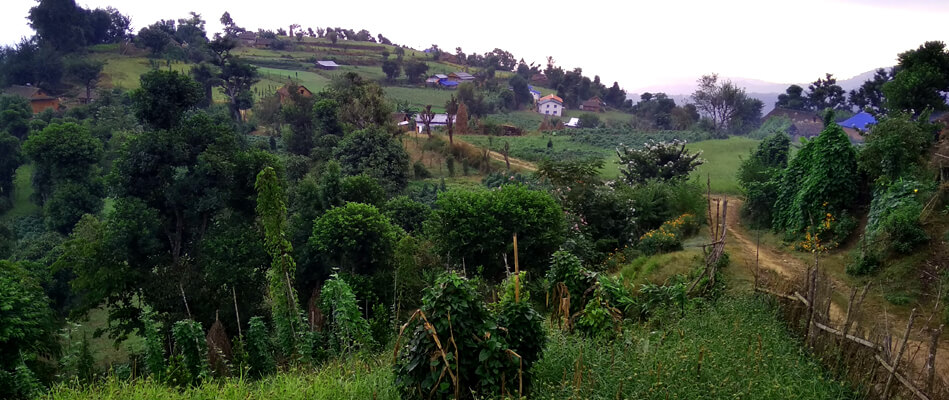 Children in the villages of Nepal do not play computer games. Access to video games is out of their imagination. It doesn't mean that they did not play. For entertainment, they gather in a specific place and play lots of traditional games.
The local names of those traditional games are Chungi, Ring, Guchchha, Kupmali, Gatte, Dori Nagwa, Ping, and Kabaddi, etc. 
List of top 10 common works in villages of Nepal:
1. Caring for Livestock
The main professions of villagers are farming. In the hilly regions of Nepal, people still follow the traditional farming system. For agriculture, fertilizer is a fundamental thing. So they prepare organic fertilizer by using agricultural wastes, urine and dung of livestock.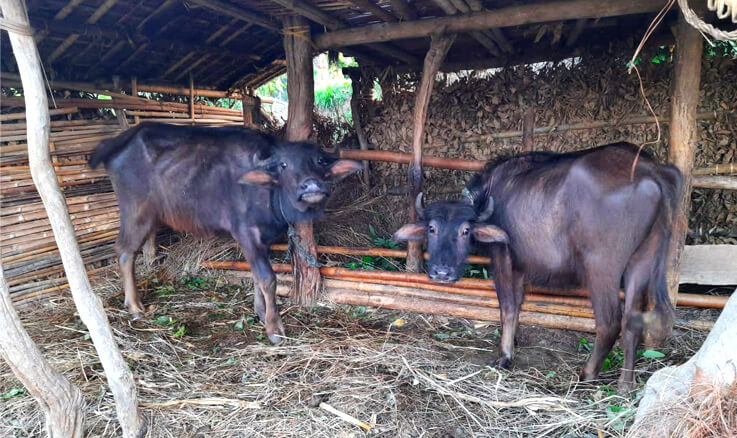 They also raise livestock for meat, milk, and plowing field. Villagers made permanent and temporary sheds for cows, buffalo, and goats.
2. Cutting Grass
Goats and cows are taken to the forest for grazing but buffalo are not taken. They feed on the shed with green or dry fodder. So cutting grass is one of the most common village works in Nepal.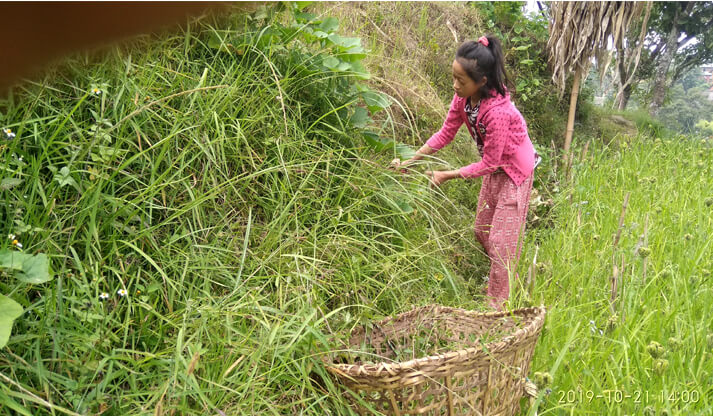 Villagers bring grass either from their agricultural fields or from the nearest forest. That's why they used to be perfect at climbing trees.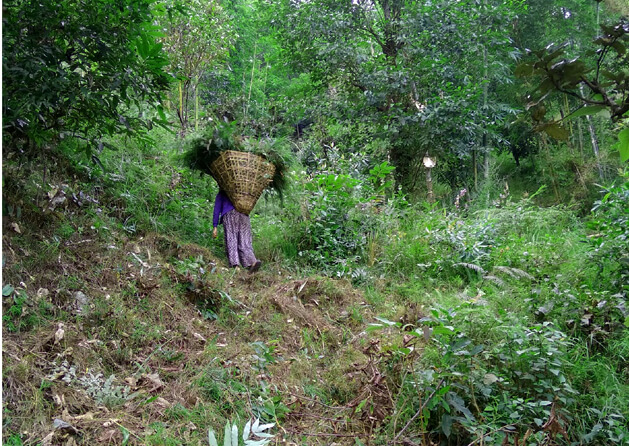 Especially, during February to April, all of the fodder dries out. So there will be a shortage of fodder. That's why farmers preserve agricultural waste i.e. wheat straw, corn straw, millet straw, and corn husk, etc.
Some of the common fodders in Nepal are Bauhinia variegate, Terminalia chebula, Inula cappa, Asparagus racemosus, Artocarpus lakoocha, Arundinaria falcate, Callicarpa arborea, and Phyllanthus emblica, etc.
3. Collecting Firewood
In Nepal, most of the villagers still use firewood as the major source of energy for cooking. The gas stove is out of their imagination. They use a smoke-free stove.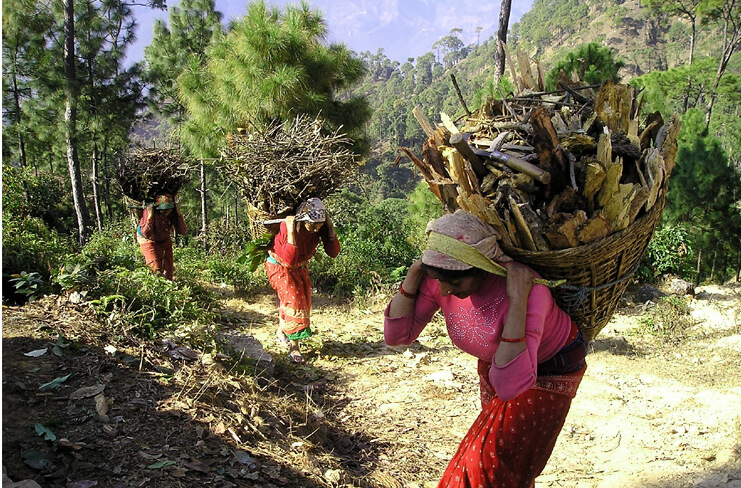 They collect firewood from the nearest forests on daily basis. Sometimes, they cut big trees of Pine or Alder and stored them for future use.
4. Grinding Grains
Most of the villages still lack grinding mills. So, Villagers of Nepal still use a stone grinder. In the local language, the stone grinder is commonly called Jato. The villager uses it to grind maize, millet, and other beans. Especially, women are involved in this work.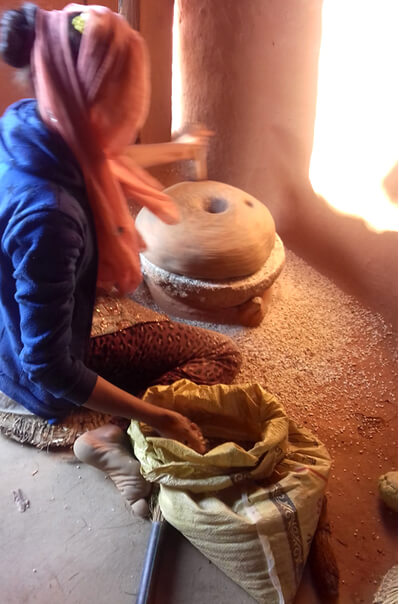 The grinding process consumes time and energy. Even though, in Nepal, it is not counted as hard work. So, women of Nepal grind the grains before sunrise and do their remaining works in the daytime.
After the grinding process, the cleaning process is also compulsory. 
5. Painting House
It is also one of the common village works in Nepal. Most of the houses are built traditionally i.e. with using mud, stone, and dry grasses.
Villagers attractively paint their house by using a mixture of water and colorful soils i.e. red, brown, white, and black. They also add the cow dunk to the mixture.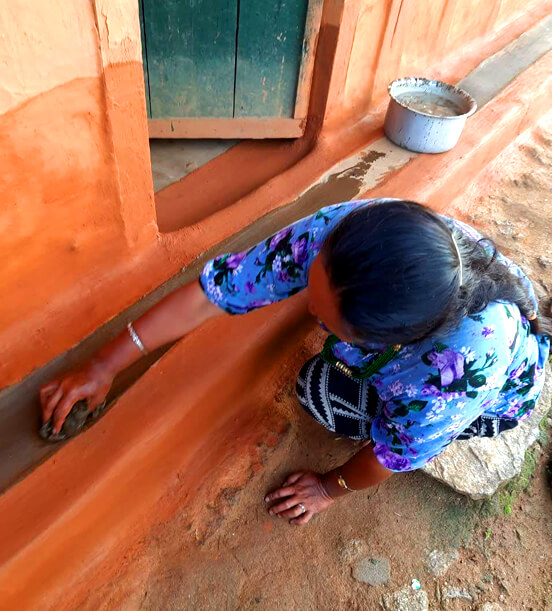 But the design of the painting disappears after some weeks. So, villager paints their floor at least once a month.
6. Growing Crops
Farming is the main profession in Nepal. Most of the villagers grow crops. They work for self-sufficient rather than commercial purposes.
They plant different varieties of crops, fruits, and vegetables. So most of the time, they work in the field. It is also related to body exercise. So they use to be healthier because of daily exercise and organic foods.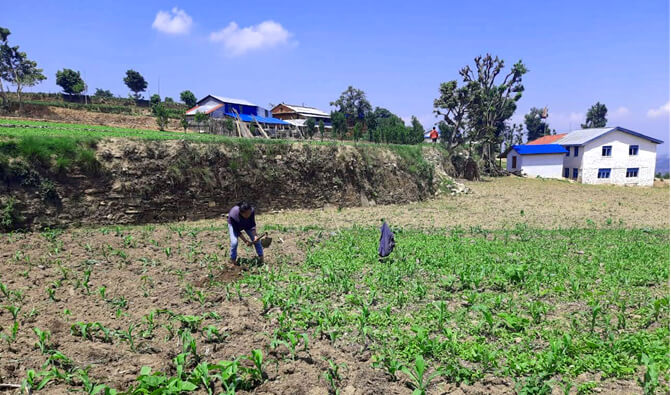 7. Thatching Roof
Thatching Roof is another common village works in Nepal. Most of the villagers traditionally build their houses i.e. using mud, stone, and dry grasses.
But thatching roof is temporary. It has to renew from time to time. So villagers collect thatching grasses either from their grassland or from nearer forests.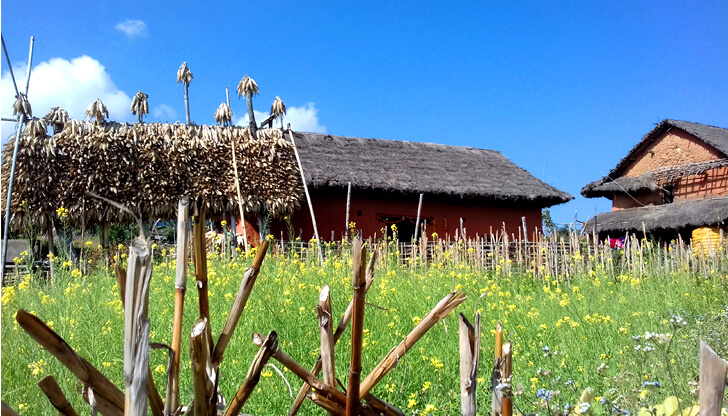 Sporobolus heterolepis and Hyparrhenia hirta are the most common thatching grass in Nepal.
In the village, houses with tin roofs are also found. The Tin roof traps the high heat of the sun, then it warms up the house. As a result, the room temperature of the house rises.
But thatching roof did not trap much heat, so it maintains the normal temperature of the house. So thatching roof is most popular in villages.
8. Helping Others
Villagers used to be very kind and helpful. They help each other, especially during the celebration of ritual ceremonies and farming season.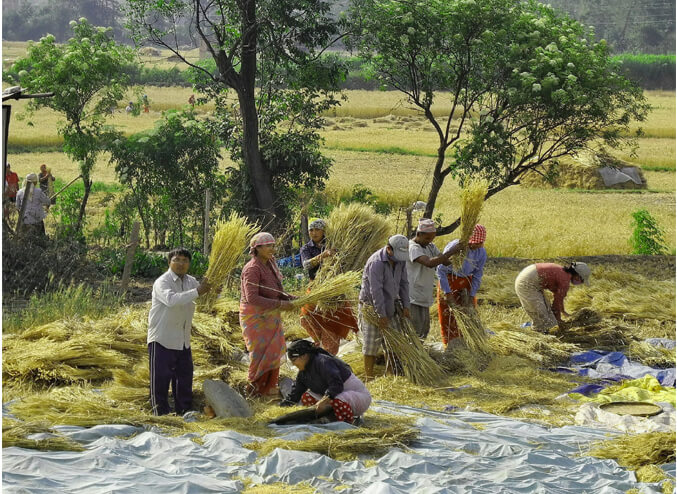 During the farming season, they work together. They are not called labor. They are just known by a name of Khetalo.
The number of its members can vary from 10-20. Khetalo used to be served with breakfast and food. This practice is mainly famous in hilly regions of eastern Nepal.
9. Preparing Beverages
Nepali people think that guests are the original form of gods. So in Nepali culture, people respect and feed every guest with local foods and beverages. And of course, village women prepare homemade beverages by using primitive technology.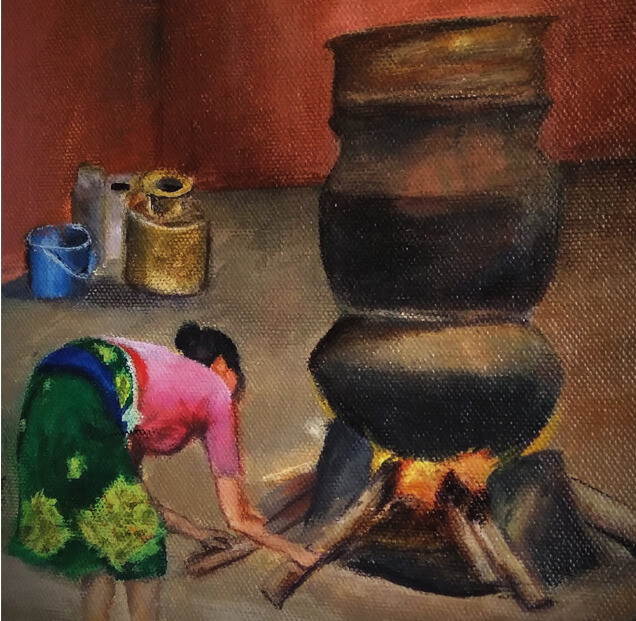 Mainly in Rai (one of the ethnic group) culture, alcohol is one of the famous beverages. As part of the celebration, Rai people drink alcohol and Semi-fermented seeds of millet or maize in all festivals and ritual ceremonies.
In the local language, alcohol is known as Raksi and Semi-fermented seeds of millet or maize are known as Jad. So preparing Raksi and Jad is also one of the common village works in Nepal.
10. Making Handmade baskets
In the village, people make different types of baskets by using bamboo, rice straw, and dry leaves of maize. The local names of some useful handmade baskets are Doko, Dalo, Kokro, and Nanglo, etc.
Those baskets are useful to carry loads, collect vegetables, put grains, and for other multiple uses.
All of the bamboo baskets are eco-friendly because they are biodegradable. So, the uses of bamboo baskets are best rather than the use of plastic products.
We hope this article helped you to find the most common village works of Nepal.
If you liked this article, then please stay connected to us on Facebook, Instagram, YouTube, and Twitter.