Top 11 Best Dye Yielding Plants in Nepal
Want to know the best dye yielding plants?
The dye is a water-soluble substance and it is used to color textiles, fibers, leather, and other materials. By reaction and absorption process, they form chemical bonds with the substance to which it is being applied.
Dye has two types: Natural and synthetic. The natural dye can be obtained from various plant species by crushing their pigment-containing parts like berries, fruits, roots, bark, leaves, and flowers.
There are three groups of natural dye: Indigo, Cochineal, and Ocher. But the synthetic dye has various types: Acid dyes, basic dyes, direct or substantive dye, mordant dye, vat dye, reactive dye, disperse dye, and azoic dye.
In this article, we will share with you the best dye yielding plants:
1. Juglans regia
Common name: Persian walnut, English walnut
Nepali Name: Okhar
Family: Juglandaceae
Flowering season: June
Fruiting season: October
Distribution: Juglans regia is one of the best dye yielding plants in Nepal. It is a deciduous tree having olive-brow bark and alternately arranged leaves. This plant is a long-lived plant (100-200 years) and grows up to 25-40 m high.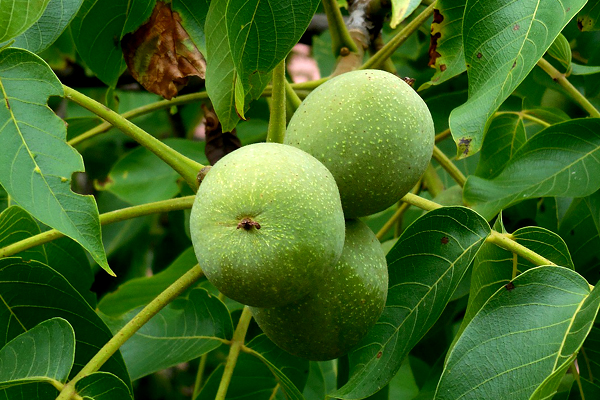 It is a native plant to Eastern Europe to North Asia: Nepal, India, China, Mexico, Turkey, and Iraq. Because of its high nutritional kernel ( seed), it is cultivated in many parts of the world including California, France, and Serbia, etc.
It grows in loamy, organically rich, alkaline, and well-drained soil. It is a tropical plant resistant to drought but highly sensitive to snowfall.
Parts used: Husk, leaves, shell
Dye color: Yellow, reddish-brown, dark brown
Mordant: Aluminum, potassium sulphate, copper sulphate, ferric sulphate
Dye extraction process;
– Dry plant parts i.e. leaves, husk, and shell.
– Boil powder form of dry parts with distilled water (1:15 ratio) for two times.
– Filter the color solution, and then use it for the dyeing process. (Dyeing of woolen yarns)
2. Rubia manjith
Common name: Common madder or Indian madder
Nepali name: Majitho
Family: Rubiaceae
Flowering season: June- November
Distribution: Rubia manjith is one of the most used dye plants in Nepal. It is a perennial climber and wild plant having small flowers, ovate-heart-shaped leaves, and red to blackberries.
Rubia manjith is found at temperate to tropical areas with an altitude of 1200m- 2700m. It grows in semi-shade and loamy soil. Purine and alizarin are the main color component present in the root of Rubia manjith.
Parts used: Root, stem, flower, or fruit.
Dye color: Crimson red
Mordant: Tin, Aluminum sulphate, Cuprate, Ammonium
Dye preparation:
-Grind the dry pieces of stem and roots of the plant.
-Wash textile with water and mordant it with 20% of alum of potassium at 100 degrees Celsius for 60 min.
-By using root powder and water (ratio 1:5), prepare the dye solution.
-Soak textile in a dye bath at 60 degrees Celsius for 1 hour. Then wash and dry the textile.
3. Mahonia nepalensis
Nepali name: Jamane Mandro
Family: Berberidaceae
Flowering season: November- December
Fruiting season: January- April
Distribution: Mahonia napaulensis is another most used dye plant in Nepal. It is an evergreen plant growing up to 2.5 m in height. It offers yellowish flowers and black reddish fruit. The plant prefers acidic and clay soil.
The plant is bisexual. In Nepal, useful parts of Mahonia napaulensis are harvested from the forest but in some places, it is grown as ornamental plants and cultivated on a large scale.
This species is native to Nepal, China, Myanmar, Australia, Bhutan, India, and other parts of the world.
Parts used: Stem, root, and fruit
Dye color: Greenish-yellow, orange, purple
Mordant: Alum, ferrous sulphate, stannic chloride, copper sulphate.
Dye extraction process:
-Make powder of plant parts. Then extract dye with mixing water.
-Add mordant to clean textiles.
-Heat dye bath containing textiles.
-Wash and dry textile in air dry.
4. Lichens
Distribution: Lichens are the symbiotic relationship of green/blue algae and fungi that can grow on rock, walls, roofs, and woody trees. It lacks roots and grows very slow. Like other plants, it can make its food through photosynthesis.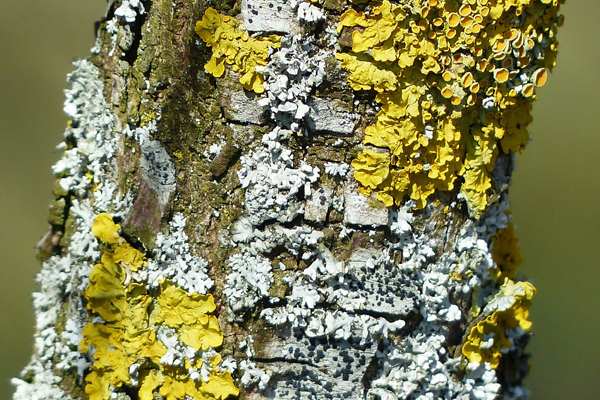 It is believed that a better dye can be obtained from rock lichen. Some species of lichen are harvested in May or June and other harvested in August. Lichen is long-lived epiphytes. Lichen cannot grow in polluted areas, so they are known as bio-indicator.
Parts used: Whole parts
Dye color: Purple, yellow, blue-violet, electric magenta
Dyeing process:
-Wash and dry selected lichen sample at 40 degrees Celsius for 72 hours.
– Crush dying sample in mortar and pestle.
-Extract dye by boiling powdered lichen on 50 ml distilled water for 1-2 hours.
-Immerse pre-soaked fibers in a dye bath and heat at 90 degrees Celsius for 2 hours.
– Wash and dry textile/fibers in air dry
5. Curcuma longa
Common name: Turmeric
Nepali name: Hardi, Haldi
Family: Zingiberaceae
Flowering season: August
Description: Turmeric is a flowering herb cultivated for its useful rhizome. The rhizome of this plant offers a black pepper-like flavor and mustard-like aroma. Its height reaches up to 1m tall.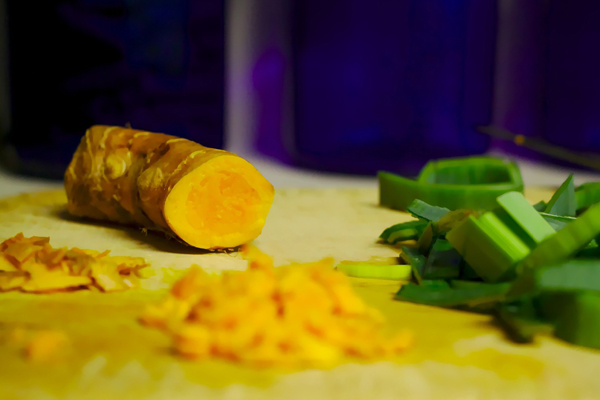 In Nepal, the rhizome of this plant is used as a medicine, dye, and kitchen spices. The plant contains alternate leaves and white-green or reddish-purple flowers. This plant is cultivated in Nepal, Sri Lanka, China, Bangladesh, Thailand, and India.
Parts used: Rhizome
Dye color: Orange, Golden yellow
Mordant: Alum
Dye preparation:
– Cut rhizome of turmeric in small pieces.
-Dry under sunlight.
-Grind to form a fine powder.
-10 grams of turmeric powder is mixed with 80 ml of 50% alcohol and left overnight.
-Filter the solution, then use to color the cotton fabrics.
6. Ageratina adenophora
Common name: Mexican devil, Crofton weed, Sticky snakeroot
Nepali name: Banmara
Family: Asteraceae
Flowering season: Spring – Early summer
Description: Ageratina adenophora is a perennial plant native to Central America and Mexico but invasive to Nepal, China, Nigeria, and Sri Lanka. The plant has opposite green leaves, white numerous flowers, and a brown stem having sticky hair.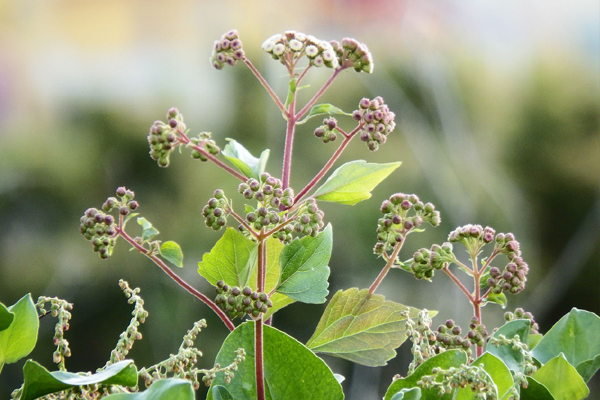 It is a bisexual plant growing up to 1-2 m tall. In Nepal, it is distributed in deforested areas with an altitude of 500-2000 m. Local villagers use Its leaves and young stems to cure cut wounds but are poisonous to livestock.
Parts used: Leaves and young stems
Dye color: Orange
Mordant: Alum, Aluminum acetate, Iron
Dye preparation:
-Collect aerial parts of Ageratina adenophora (plant material).
-Dry under sunlight, then grind.
-Boil the powder with water.
– Filter solution, then use to color silk and wool fabric.
7. Terminalia chebula
Common name: Chebulic myrobalan
Nepali name: Harra
Family: Combretaceae
Flowering season: May-June
Fruiting season: July-December
Description: Terminalia chebula is a wild medicinal plant found in diverse regions of Asia and tropical Africa. Its height reaches up to 30 m tall. It offers white-yellow flower, dark brown bark, green leaves, and orange-brown fruit having big medicinal value.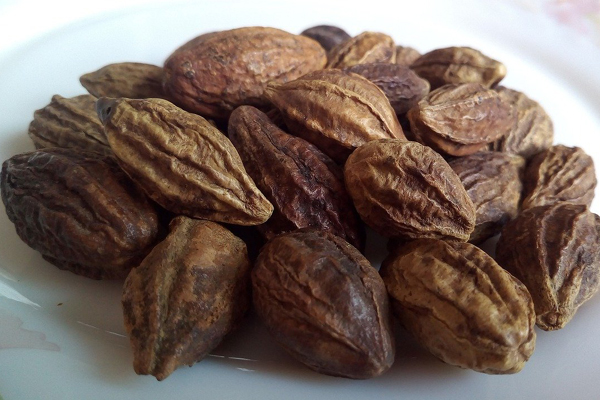 It prefers a warm climate and well-drained soil. Both fresh and dry fruits of Terminalia chebula have high medicinal value.
Parts used: Fruits
Dye color: Yellow brownish, brown
Mordant: Alum, Iron sulfate, Tin chloride, Ferrous sulfate, stannous chloride
Dye preparation:
-Grind dry fruits of the plant.
-Boil the fruit powder with water in a dye bath with a temperature of 95-98 degrees Celsius for 60 minutes.
-Immerse mordanted woolen yarns into a dye bath.
-Wash dyed woolen yarns with the non-ionic detergent safe wash and rinse with water, then dry in shade.
8. Acacia catechu
Common name: Catechu, black cutch
Nepali Name: Khair
Family: Fabaceae (or Leguminosae)
Description: Acacia catechu is a deciduous tree found in the tropical regions of Nepal. This tree grows up to 15 m tall and prefers acidic and well-drained soil. Bees and Insects are the main pollinators of this plant.
People cultivate Acacia catechu for fuel (firewood), medicine, and dye. It grows in a dry forest. It contains pale yellow flowers and numerous thorns.
Parts used: Seed
Dye color: Red color
9. Indigofera tinctoria
Common name: True Indigo
Nepali Name: Neel
Family: Fabaceae
Flowering season: Mid-spring
Description: Indigofera tinctoria is a wild perennial plant growing up to 1- 2 m tall. It prefers moist soil and a temperate climate. This plant grows at temperate to the tropical region of Nepal.
It offers light green leaves and pink or violet flowers. In some places, people cultivate it for dye and medicinal purposes.
Parts used: Leaves
Dye color: Deep blue
Mordant: Sodium hydroxide
10. Melastoma malabathricum
Common name: Malabar melastome and Indian rhododendron
Nepali name: Angeri
Family: Melastomataceae
Description: Melastoma malabathricum is a perennial shrub having purplish flowers, dark blue pulp, and green leaves. It is one of the best dye yielding plants. This plant grows up to 3 meters tall and Its ripen fruit is edible.
Parts used: Fruit pulp, flower, roots
Dye color: Purple and pink color
Mordant: Aluminium potassium sulphate, iron sulphate, and stannous chloride.
11. Tagetes erecta
Common name: Marigold or African marigold
Nepali name: saipatri
Family: Asteraceae
Description: African marigold is one of the beautiful garden flowers which are cultivated on a commercial scale for ornamental, dye, and medicinal purposes. Marigold offers various shapes, types, and colors including yellow and orange-red.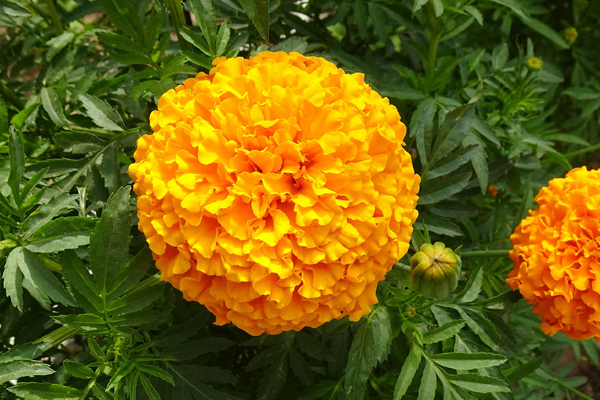 It prefers fertile and well-drained soil. Marigold is propagated either from seeds or from stems. In Nepal, people used marigold to celebrate Tihar festivals.
Parts used: Flower and leaves
Dye color: Yellow, orange, and golden color
Mordant: Potassium dichromate, stannous chloride, Potash alum, Copper sulfate, and ferrous sulfate.
We hope this article helped you find the best dye yielding plants.
If you liked this article, then please stay connected to us on Facebook and Twitter.